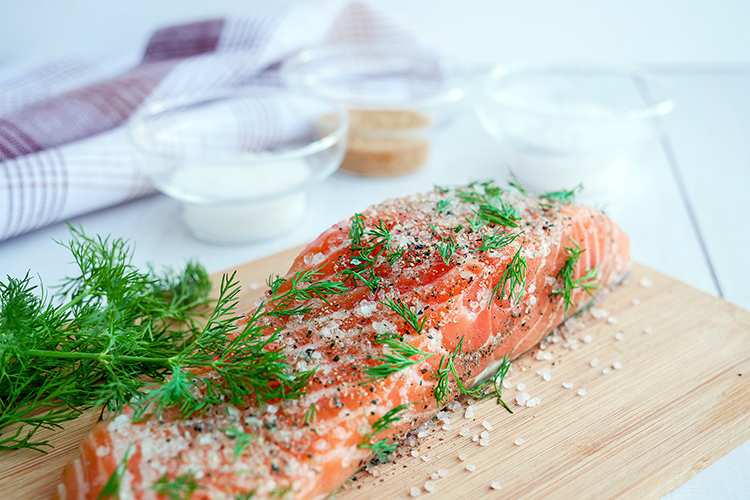 It's traditional to break your Yom Kippur fast with a spread of bagels, lox, and cream cheese. This year why not try a riff on the classic by switching out the lox for some light and delicious Scandinavian gravlax. Though the two preparations have a lot in common, our gravlax recipe has just a hint of sweetness as well as the aroma of fresh dill to liven it up.
Gravlax
Ingredients
⅓ cup salt
½ cup sugar
1 tbsp crushed or coarsely ground white peppercorns
3 lb fresh salmon fillet, preferably center-cut, skin left on
2 bunches of fresh dill, washed and dried, plus more for garnish
Plastic cling wrap
Instructions
Mix together the salt, sugar and pepper, and rub the fish all over with the mixture.
Place the salmon skin side down on a sheet of cling wrap large enough to wrap the whole fillet, and lay the dill evenly over the top. Enclose the salmon inside the plastic and seal it tightly.
Wrap in another layer of cling wrap and place in a baking dish or other nonreactive utensil large enough to hold it flat and keep any juices from running out.
Place a dish or platter on top of the cling-wrapped fish and add another pound or two of weight to the top of that. (We like to use a 28-ounce can of tomatoes.)
Refrigerate it for 36 to 48 hours, turning the wrapped salmon every 12 hours or so.
To serve, remove the salmon from the plastic wrap, and gently scrape or wipe off all the seasoning. Place the salmon on a large platter or cutting board and, using a long sharp knife, slice it diagonally as thinly as possible. Garnish with fresh-cut dill, if desired.
Enjoy with bagels and cream cheese, a traditional mustard sauce, or mix things up and try it with some toasted rye points and crème fraîche.