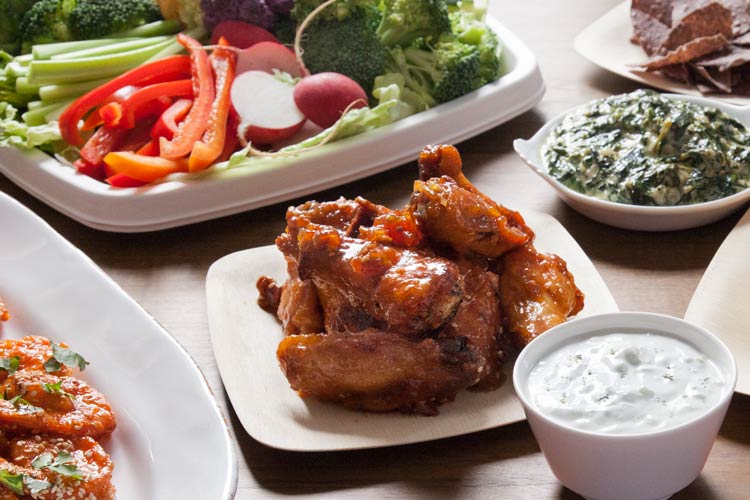 While the San Francisco 49ers and Kansas City Chiefs get ready to face off this Sunday, we're busy stocking up on all the essentials for a mouthwatering game day spread, from chips and dip, to pizza and beer, to our selection of ready-eat-to-eat snacks and finger foods.
This weekend only, you'll find housemade Super Bowl specials like chicken wings, mini meatballs, and baby back ribs available at our Prepared Food counter. We'll also have our popular beef-and-black-bean chili, Buffalo chicken tenders, and a selection of made-from-scratch dips that are perfect for dunking chips or vegetable sticks.
Whether or not you watch the big game, this is the one time of year to take advantage of our special menu, so stock up while supplies last. And of course, don't forget the beer!
OUR SUPER BOWL MENU
Available February 1 – February 2, 2020
HOT WINGS
Old Bay seasoning and Frank's Hot Sauce
$10.99 / lb
PINEAPPLE TERIYAKI WINGS
Teriyaki, sesame seeds, and scallions
$10.99 / lb
BUFFALO CHICKEN TENDERS
Marinated with buttermilk, Frank's Hot Sauce, and cayenne
$11.99 / lb
MINI MEATBALLS
Beef meatballs glazed with a savory BBQ sauce
$9.99 / lb
BABY BACK RIBS
Sweet and smoky BBQ ribs
$14.99 / lb
BEEF & BLACK BEAN CHILI
Dried chilies, poblano chilies, red beans, chocolate
$11.99 / qt
MADE-FROM-SCRATCH DIPS
Creamy Spinach Dip, Caramelized Onion Dip, Cheddar & Chive, Blue Cheese, Ranch
$4.99 – $5.99 / 8 oz.
CARROT & CELERY STICKS
$5.99 / each