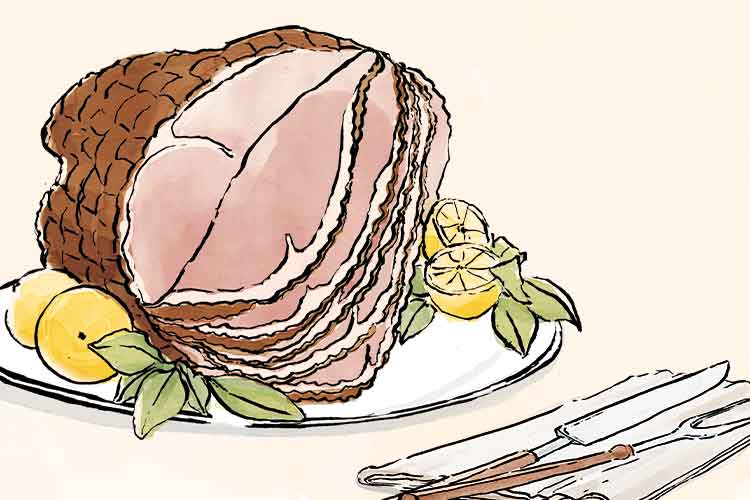 Make Christmas the merriest day of the year with a meal featuring the nostalgic scents and traditional flavors of the holiday. At Union Market, you'll find all the best the season has to offer as well as a wonderful selection of mains, sides, and desserts at our Prepared Food counter—everything from ginger-glazed ham to red wine-poached pears.
When it comes to sourcing your centerpiece, our Butcher counter has a variety of sustainably and humanely raised fresh meat and poultry to choose from, all antibiotic-free and born, raised, and harvested in the U.S. If you're looking to roast a bird, choose from a traditional Christmas goose, free-roaming turkey, pheasant, duck, or capon. We'll also have standing rib roasts, crown roasts, and pork or beef tenderloins available, as well as classic spiral-cut Christmas hams. Be sure to reserve your holiday roast by phone or in-person with the butcher at your nearest Union Market by Thursday, December 19th.
No matter what centerpiece you choose, we'll have the perfect side dishes to complement it, all prepared with the freshest, top-quality ingredients in our Park Slope kitchen. Zesty green beans with almonds and shallots, sweet and savory pear parsnip purée, creamy mashed potatoes, and roasted beet salad with candied pistachios and truffle vinaigrette are some of the most popular holiday sides you'll find at our Prepared Food counter.
Keep the cheer flowing into dessert with pies, cookies, and pastries from local bakeries like Blue Duck Bakery, Steve's Authentic Key Lime Pies, Junior's Cheesecake, and Ladybird Bakery. We'll also have festive fruit-studded Italian panettone and gluten-free and vegan treats galore.
Be sure to save something sweet for Santa, and have a very merry Christmas from Union Market!
From Our Butcher Counter
Accepting orders through December 19, 2019
UNCURED SPIRAL-CUT BONE-IN HAM
$5.99 / lb
UNCURED BONELESS WHOLE HAM
$6.99 / lb
UNCURED BONELESS HALF HAM
$7.49 / lb
FREE-ROAMING TURKEY
$2.99 / lb
FREE-RANGE GOOSE
$12.99 / lb
STANDING RIB ROAST
$19.99 / lb
BEEF TENDERLOIN ROAST
$29.99 / lb
PORK TENDERLOIN
$9.99 / lb
CROWN ROAST OF PORK
$9.99 / lb
BONE-IN LEG OF LAMB
$12.99 / lb
CROWN ROAST OF LAMB
$32.99 / lb
PHEASANT
$12.99 / lb
CAPON
$7.99 / lb
DUCK
$5.99 / lb
Mains & Sides
Available December 19 — December 24, 2019
at our Prepared Food counter
GINGER & GARLIC GLAZED HAM
$17.99 / lb
MAPLE & ROSEMARY-BRINED TURKEY BREAST
$17.99 / lb
CREAMY MASHED POTATOES
$6.99 / lb
GREEN BEANS WITH ALMONDS & SHALLOTS
$10.99 / lb
PARSNIP & PEAR PURÉE
$10.99 / lb
BEET SALAD WITH CANDIED PISTACHIOS
& TRUFFLE VINAIGRETTE
$9.99 / lb
ROASTED CARNIVAL SQUASH
$11.99 / lb
SPICE-GLAZED CARROTS WITH CITRUS & SHERRY
$11.99 / lb
RED WINE-POACHED PEARS
$1.99 each
Desserts
PANETTONE
Augusta
Galup
Tre Marie
Filippi
PIES
Blue Duck Bakery
Steve's Authentic Key Lime Pies
CAKES
Artisan Bakers
Junior's Cheesecake
Ladybird Bakery
GLUTEN-FREE
Trentasette Panettone
The Maine Pie Co. Pies
Whipped Pastry Boutique Pies