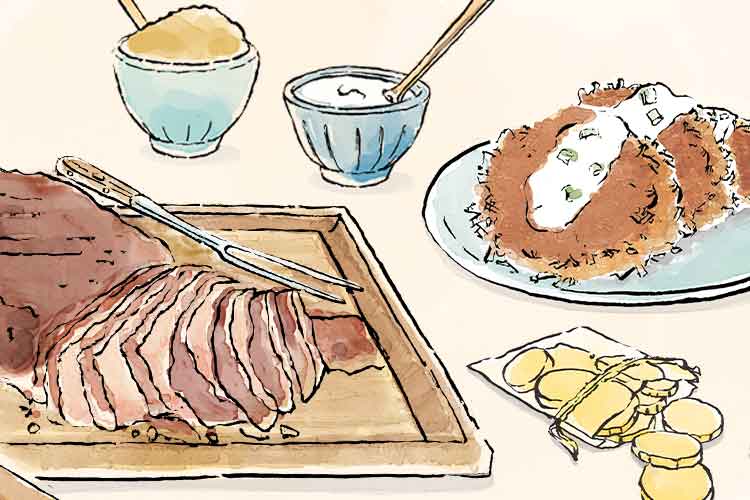 In the heart of winter, Union Market is standing by to help make your festival of lights bright. Our aisles will be stocked with everything you need to make family recipes from scratch, and our Prepared Food counter will have plenty of ready-to-eat, classic holiday dishes and desserts for your table.
For a centerpiece, try our popular slow-cooked brisket with carrots and onions, or one of our free-range rotisserie chickens. Of course, no Hanukkah is complete without a generous serving of potato latkes served with fresh sour cream, made-from-scratch applesauce, and a side of perfectly spiced tzimmes, all made with love right here in our own Park Slope kitchen.
Don't forget to pick up a loaf of sweet, fluffy challah to fill your bread baskets, and stock up for dessert with festive chocolate gelt and locally baked babka, rugelach, and cookies.
Happy Hanukkah!
MAINS & SIDES
Available December 21 – December 30, 2019
at our Prepared Food counter
 TRADITIONAL BRISKET WITH CARROTS & ONION
$17.99 / lb
ROTISSERIE CHICKEN
Adobo, Lemon Herb, Rosemary & Garlic, and Salt & Pepper
$4.79 / lb
PETITE CONFETTI POTATOES
$7.99 / lb
POTATO LATKES
$2.99 each
APPLE SAUCE
$6.99 / lb
TZIMMES
$6.99 / lb
DESSERTS
 BLUE & WHITE MINI COOKIES
Lilly's Bake Shoppe
CLASSIC BABKA
in Chocolate or Cinnamon
Lilly's Bake Shoppe
VEGAN RUGELACH
in Chocolate or Raspberry
Lilly's Bake Shoppe
GLUTEN-FREE RUGELACH
in Chocolate or Cinnamon
Las Delicias Pastisserie
ASSORTED COOKIES
Rainbow, Linzer, and Crinkle Cookies
Schick's Bakery
Lilly's Bake Shoppe
CHOCOLATE GELT
Lake Champlain Chocolate
Divine Chocolate