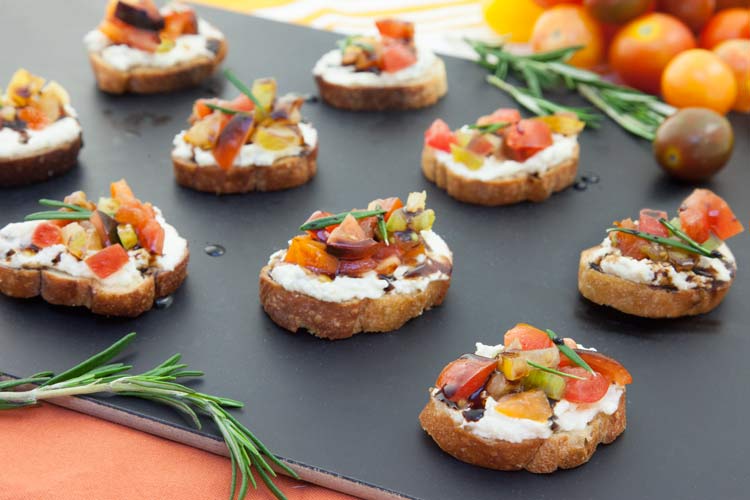 With Labor Day just around the corner, it may feel like summer is winding down, but the good news is that summer produce is still in full swing here at Union Market!
We've got lots of local peak-season produce available, from peaches and nectarines to corn, peppers, and tomatoes. Our emphasis on stocking local produce whenever possible means that you get the freshest, most delicious fruits and vegetables that we can find. One prime example is our mixed pints of organic heirloom and cherry tomatoes—currently on special for $1.00 off per pint.
These bite-sized gems are grown in the Hudson Valley at Hepworth Farms, a certified organic seventh-generation family farm. Each colorful variety has its own unique taste, ranging from sweet and citrusy to robust and earthy. They're delicious eaten straight out of the carton, and they make a great after-school snack. However, if you're looking for a more grown-up way to enjoy these beauties, we suggest pairing them with a longtime local favorite: Salvatore Bklyn.
Salvatore Bklyn's artisanal ricotta—also currently on special at a great price—is handmade in Red Hook, Brooklyn, with milk from Hudson Valley Fresh. We've long been fans of this luxurious, creamy ricotta and find it's the perfect topping for crusty bread, a crunchy cracker, or our housemade crostini.
In this recipe, we let simple, fresh ingredients shine by pairing Hepworth Farms heirloom mixed cherry tomatoes with fragrant fresh rosemary and Salvatore's rich ricotta. This perfectly sweet-tart, creamy, summery crostini is sure to delight kids and adults alike.
Tomato, Rosemary & Ricotta Crostini
Makes 12 crostini
INGREDIENTS
10-12 small mixed heirloom and cherry tomatoes from Hepworth Farms
2 tbsp extra virgin olive oil
2 tsp aged balsamic vinegar, plus extra for drizzling
½ tsp flaky, coarse sea salt
1 tbsp of finely chopped fresh rosemary, plus a few leaves for garnish
4 oz. Salvatore Bkyln ricotta
12 Union Market housemade crostini
INSTRUCTIONS
Dice the tomatoes into ¼-inch pieces and combine in a medium size bowl with the olive oil, balsamic vinegar, and salt. Stir well to combine and let sit while you prepare the ricotta-rosemary mixture.
Scoop 4 ounces of Salvatore Bklyn ricotta (half of a container) into a small bowl and stir in the chopped rosemary.
Spread a generous dollop of the ricotta-rosemary mixture onto a crostini and top with about a tablespoon of the chopped tomatoes. Drizzle with balsamic vinegar and serve.