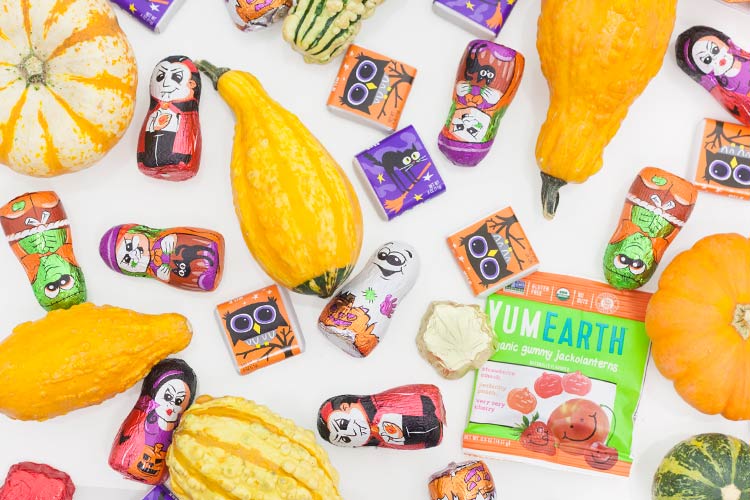 The spookiest time of the year is here, and our Halloween goodies will please even the most discerning young goblin, superhero, or witch!
When it comes to candy, we believe that Halloween is no time for scary ingredients, so we only carry brands that are committed to making products that are free of things like high fructose corn syrup, artificial sweeteners, and harmful preservatives.
Delight your trick-or-treaters with a big serving of hair-raisingly delicious, non-GMO, allergen-free Sour Worms and Spooky Spider gummy candies from Surf Sweets or organic Halloween lollipops from Wholesome—they're gluten-free, free of synthetic colors, and made with organic cane sugar.
For kid-friendly, sugar-free chewing gum, check out Glee Gum. Their scrumptious hard-candy lollipops with a surprise in the middle—a chewy core of yummy, natural bubblegum! Made without any artificial colors, flavors, or sweeteners, these put the POP back in lollipops!
Yum Earth, another of our favorite brands, has a whole selection of classic Halloween candies that are non-GMO, gluten-free, and certified organic. Stock up on their Jack O'Lantern gummies and organic candy corn and lollipops.
If chocolate is more your style, our beautiful handmade treats from Lake Champlain Chocolate in Vermont are the perfect indulgence for kids and grown-ups alike. Mix and match caramels, truffles, and milk and dark chocolates that come in an array of autumnal flavors and shapes.
And don't forget to stop by our Baked Goods counter, where we'll have adorable little petits fours in a variety of spooky Halloween-themed shapes—watch out for monsters, witches, ghouls and ghosts!