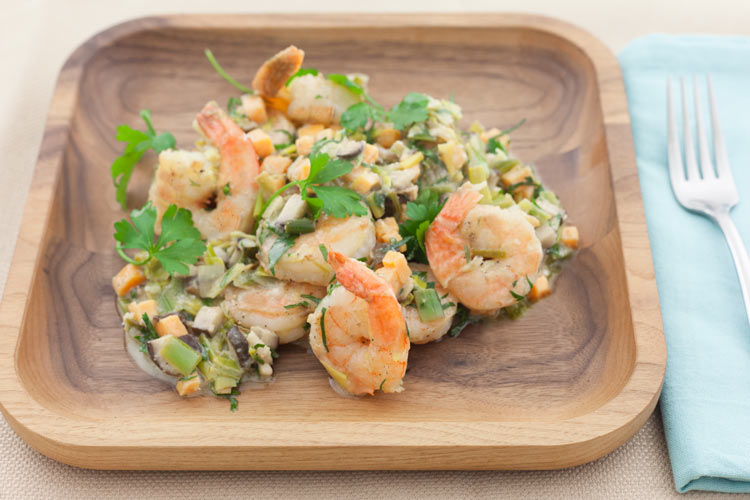 This is one of those magical dishes that feels light but still manages to be incredibly satisfying. Sweet potatoes and sautéed leeks lend a mild sweetness to the dish that's complemented by the creamy, earthy goat cheese and briny, perfectly cooked shrimp.
Best of all, the whole thing comes together in a flash. Make it for a weeknight dinner for two or just multiply the quantities for a quick but impressive meal when you're entertaining.
And for those who want add some more heft and a bit of spiciness, we've included an option with chorizo. We recommend serving this dish alongside one of our crusty Blue Duck Bakery baguettes and a crisp, dry white wine.
Pan-Roasted Shrimp with Leeks and Goat Cheese
Serves 2
INGREDIENTS
12 medium peeled and deveined shrimp (look for shrimp marked 16–20, or ask your fishmonger)
½ cup sweet potato, peeled and cut into ½-inch dice
½ cup leek, well washed, and cut into ¼-inch pieces
½ cup shiitake mushrooms, stems removed, and caps cut into small dice
2 oz crumbled goat cheese
1 cup fish stock or vegetable stock
2 tbsp chopped parsley leaves
2 tsp lemon zest
2 tbsp extra virgin olive oil
Salt and pepper to taste
Optional:
½ cup dried chorizo sausage, cut into ½-inch dice
INSTRUCTIONS
Heat the olive oil in a medium sauté pan over high heat until the oil begins to shimmer.
Season the shrimp with salt and pepper and add them to the hot oil in the pan. Cook for 1 minute on each side, then remove from the pan and set aside.
Reduce the heat to low and add the sweet potato, leeks, mushrooms, a pinch of salt, and the chorizo, if using, and cook for 2 minutes.
Add the stock and bring the mixture to a simmer. Let cook for 1 minute, or until the sweet potato is tender but not falling apart.
Add the goat cheese to the pan and stir to melt it and incorporate it into the sauce.
Add the shrimp back to the pan and cook for 2 more minutes to heat the shrimp through. Check for seasoning and adjust salt and pepper as needed.
Sprinkle the finished dish with chopped parsley and lemon zest and serve hot.