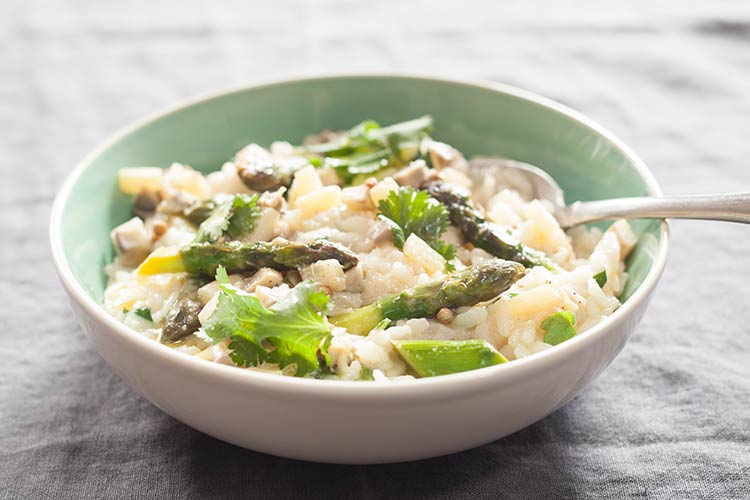 There's no shortage of ways to combine all the wonderful produce available in the spring into delicious meals, but this dish may be one of our favorites.
This rich and creamy risotto is the perfect way to celebrate the arrival of spring. It has the faint perfume of citrusy ground coriander seed, the woodsy aroma of little cremini mushrooms, and a spark of fresh spring flavor from tart and juicy rhubarb and succulent and herbaceous asparagus.
Make this for a one-dish weeknight dinner and enjoy it with your favorite white wine with a little acidity that will stand up to the rhubarb in the dish. Or serve it alongside roast chicken or grilled pork chops and you have a dinner party ready to go!
Spring Risotto with Rhubarb, Mushrooms, Roasted Green Asparagus and Coriander
Serves 4-6
INGREDIENTS
1½ cups Vialone Nano or Arborio rice
3 shallots, finely chopped
¾ cup white wine
6½ cups vegetable stock, warmed
2 oz Parmigiano Reggiano cheese, grated
¼ lb unsalted butter
2 tbsp olive oil
1 cup cremini mushrooms, diced into ½-inch pieces
½ cup rhubarb, outer skin peeled, and cut into ½-inch dice
2 tbsp coarsely ground coriander seed
1 lb green asparagus, washed, trimmed, and cut into 1-inch pieces
Salt, pepper, and extra virgin olive oil to taste
INSTRUCTIONS
In a medium sauté pan, heat olive oil till shimmering. Add asparagus, rhubarb, and mushrooms, and sauté on high heat for 2 minutes. Season with salt and pepper and set aside.
In a medium saucepan, melt the butter over medium heat till it begins to froth. When the froth subsides, add the shallots and coriander seeds and cook, stirring often, till the shallots are translucent.
Add the rice all at once to the saucepan and stir over medium heat for 2 minutes. The edges of the grains will become translucent and you will see a pearl of starch at the center of each grain.
Add the white wine to the rice, and continue to cook, stirring, till the wine has just evaporated and the pan is dry. Slowly, add 2 cups of the warm vegetable stock to the rice and stir, making sure that the rice doesn't stick to the pan. Let cook till all the liquid is absorbed. Repeat until all the stock is finished.
When the risotto is finished the rice should look and taste creamy and still be a little toothsome when you bite into it. If you find that it's still too al dente when the stock is finished, feel free to finish cooking it with hot water. Check once more for seasoning and add salt and pepper as needed.
When the risotto is finished, stir in the reserved asparagus and rhubarb.
Serve topped with shaved Parmigiano-Reggiano cheese and a drizzle of extra virgin olive oil.