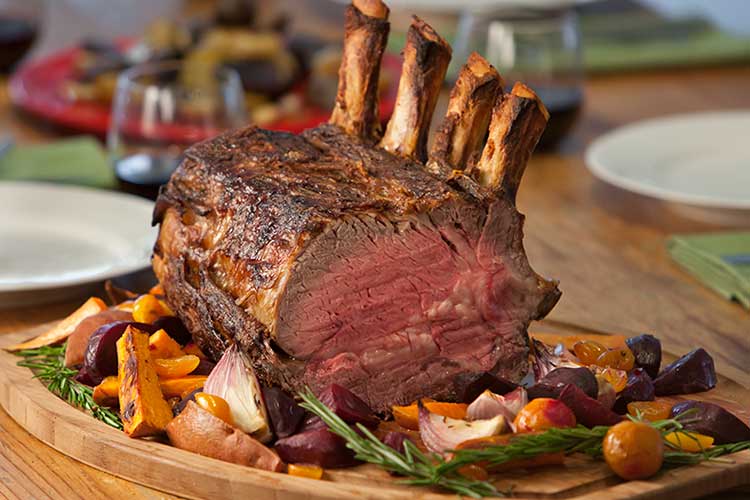 The smell of pine needles is on every street corner and there's a festive chill in the air: that means it's time to start planning that picture-perfect Christmas dinner!
Let us make things easier for you with our selection of head-turning roasts to serve as the centerpiece of your Christmas table, from classic beauties like a standing rib roast or a good old-fashioned turkey to a gorgeous all-natural bone-in leg of lamb.
We take the guesswork out of your holiday shopping by carrying only top quality meat, all humanely and responsibly raised. And if you're already exhausted from the effort of planning your pièce de résistance, why not allow us to set the table with some delicious side dishes—we have something for every discerning palate—from fresh and zesty green beans with almonds and shallots to velvety and rich pear and parsnip purée.
FROM OUR MEAT COUNTER
STANDING RIB ROAST
$18.99 / lb
WHOLE BEEF TENDERLOIN
$31.99 / lb
PLAINVILLE FREE-ROAMING TURKEY
$2.99 / lb
D'ARTAGNAN FREE-RANGE GOOSE
$12.99 / lb
LEIDY'S SPIRAL-CUT BONE-IN HAM
$6.99 / lb
LEIDY'S PETITE BONELESS HAM
$8.99 / lb
VANDE ROSE FARMS PORK TENDERLOIN
$11.99 / lb
VANDE ROSE FARMS CROWN ROAST OF PORK
$9.99 / lb
MOSNER FAMILY BRAND BONE-IN LEG OF LAMB
$12.99 / lb
MOSNER FAMILY BRAND CROWN ROAST OF LAMB
$28.99 / lb
PREPARED FOOD: MAINS & SIDES
BOURBON-GLAZED HAM WITH CHARRED PINEAPPLE
$17.99 / lb
BEEF TENDERLOIN WITH HORSERADISH CRUST
$35.99 / lb
BEET SALAD WITH ORANGE AND OLIVES
$9.99 / lb
GREEN BEANS WITH ALMONDS AND SHALLOTS
$10.99 / lb
POMEGRANATE-GLAZED PARSNIPS
$9.99 / lb
PEAR AND PARSNIP PURÉE
$8.99 / lb
CREAMY MASHED POTATOES
$6.99 / lb
CATALAN SPINACH
$10.99 / lb
SPICED RED WINE POACHED PEARS
$1.49 each
DESSERTS
PANETTONE
Flamigni
Rustichella
Tre Marie
Trentasette
CAKES
Artisan Bakers
Junior's
Lady Bird Bakery
Piece of Velvet
FLOURLESS CHOCOLATE CAKE
Mitchell London
CUPCAKES
Brooklyn Cupcake
Sugar Sweet Sunshine
PIES
Blue Duck Bakery
Steve's Authentic Key Lime Pies
GLUTEN-FREE PIES
Las Delicias
MACARONS
Sucré
To place your holiday order in advance, please call our Catering department at 718.230.5152, or send an email to catering@unionmarket.com. Orders must be placed by Monday, December 21, 2015.
Happy holidays from all of us at Union Market!