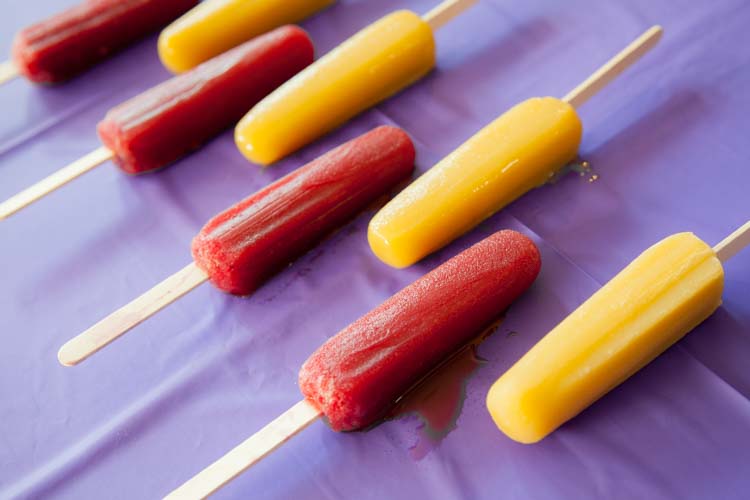 Even though it's no longer summer, it's natural to be in the mood for a refreshing ice pop from time to time. Daniel and Rebecca Dengrove, the brother and sister duo behind Brewla Bars, know the feeling, and they're five steps ahead of you with their line of frozen treats.
The idea for an innovative, all-natural ice pop came to Daniel one sweltering summer day when he was visiting the pair's childhood home in Southern California.
It was the perfect day for an ice pop. The only problem was that all the popsicles from his youth just tasted too artificial to him now. Shouldn't it be possible to get a delicious break from the heat without downing all those weird chemicals, too?
He was surprised that there wasn't anything like what he had in mind on the market. He called his sister Rebecca, who has a Master's degree in Food Science, with the idea of creating a line of ice pops that used natural ingredients but still tasted fantastic.
Rebecca loved the idea. Without wasting any time, the two began to experiment with recipes for the new bars. They eventually decided that the best way to get the taste and health benefits they were looking for was to start with a base of craft-brewed tea, espresso, or root beer—and so the first Brewla popsicles came to be.
For two years Rebecca and Daniel sold their bars the old-school way, out of a freezer cart at farmers' markets all around New York City, and they were a hit. In 2012 they decided to expand their business so that people could buy their great, nutritious popsicles in stores.
We're delighted carry the popular ice pops from this Brooklyn-based brand. You'll find these Brewla Bars flavors in the freezer section at all Union Market locations:
Craft Brewed Root Beer Float—only 40 calories
Strawberry and Hibiscus Tea—sugar-free and only 20 calories
Tropical Fruits and White Tea—sugar-free and only 30 calories
It's that fresh, cool taste of summer you can enjoy all year long—without any of the artificial additives.