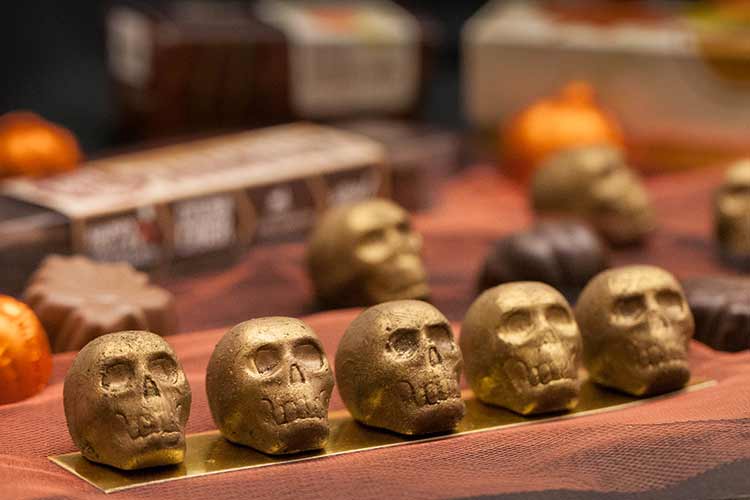 Halloween is lurking just around the corner, but there's no need to be afraid: we have everything you'll need to make it the most deliciously haunted night of the year.
Add some spooky flare to your stoop or windowsill with our gourds and pumpkins—we've got small ones for painting or large ones that are perfect for carving. And our selection of candy has something for everyone, from the littlest ghouls to the most discerning grown-up goblins.
We carry traditional favorites, from jelly beans to Swedish fish to candy corn, as well as fantastic specialty items that hit the sweet spot between ghostly and delicious, like our Halloween-themed petits fours in flavors like Yummy Mummy and Marzipan Witch. Looking for something that's both macabre and scrumptious? Try some handcrafted chocolate skulls from FIKA. Made from the finest ingredients right in FIKA's Tribeca chocolate factory, these miniature skulls are coated in edible gold dust and filled with a decadent gianduja of macadamias, almonds, and hazelnuts.
Or if you're looking for something less chilling, pick up a beautiful bag of fine Lake Champlain chocolates. You'll be spoiled for choice between their Spiced Pumpkin Truffles, Dark Chocolate Sea Salt Caramels, delicious Milk Chocolate-Apple Cider Caramels, and boxes of assorted truffles.
And if you're looking for the perfect seasonal drink to take the edge off the cold weather, we have six-packs of Pumpkin Ale from breweries like Smuttynose, Magic Hat, and Blue Moon. After all, there's no reason for the trick-or-treaters to have all the fun!