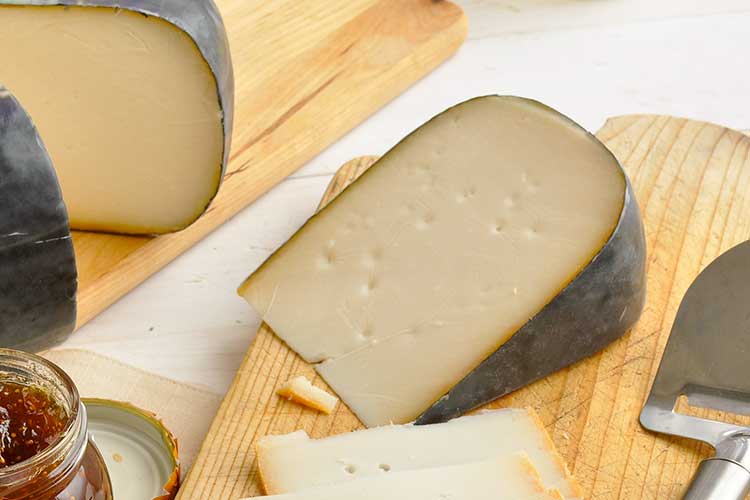 We doubt that Mary Keehn, cheesemaking legend and founder of Cypress Grove Chevre, was thinking big when she first started breeding goats back in the 1970s. With a background in biology, Mary's goal was simply to produce healthy milk for her family. But her breeding practices proved so successful that excess milk led to thoughts of fresh goat cheese, and by 1983 Mary had launched what was to become one of the U.S.'s most creative and respected cheese producers.
The creamery at Cypress Grove sits where the redwoods meet the ocean, some 285 miles north of San Francisco in Arcata, California. The terrain is both lush and mountainous, with small grassy pastures dotting the rugged hillsides that roll down to the shore. Goats feed on a smorgasbord of greenery and produce deliciously tangy, full-bodied milk with a saline edge.
Cypress Grove's Humboldt Fog might be the single most iconic goat cheese ever produced in the U.S. It was a winner again at the American Cheese Society Judging and Competition in 2014, as were Cypress Grove's Truffle Tremor, Bermuda Triangle and Fromage Blanc. But for all the awards they've earned over the past 30 years, one of their best and most popular cheeses will never win a ribbon from the American Cheese Society. Midnight Moon, their dense and nutty aged goat Gouda curiously does not meet the criteria to be entered into ACS competition. Here's why.
By the mid-1990s, Mary had started thinking about growing Cypress Grove beyond fresh and soft-ripened cheeses. Then one year, Mary had the good fortune to connect with a goat cheese producer in the Netherlands and see what they were doing at the farm and in the creamery. The cheesemaker also turned out to be a single mom, so not only was Mary impressed by their facilities and practices, but the two of them bonded over stories of caring for kids, both human and goat.
Mary and her Dutch counterpart set up shop in Holland, working from Mary's recipe, collaborating on its formulation, and using locally sourced milk. Midnight Moon, the glorious result, is aged for six months to a year and made from pasteurized goat's milk using a microbial (vegetarian-approved) rennet. Its texture is firm and often crunchy, with a densely creamy, nutty, grass-and-hay flavor, and a classic caramel Gouda finish.
As Mary put it, "What began with a love of goats and sharing of knowledge between two families across the world has allowed us to both personally enjoy Midnight Moon and share it with our customers.  After all the years, it is still one of those cheeses I can't get enough of."
Since it is produced in Holland and shipped to California for distribution, Midnight Moon cannot be entered in the ACS Judging and Competition because it is not made in the Americas, but it has a proven to be a winner for cheese lovers all over our hemisphere, and on both sides of the counter. Echoing Mary's thoughts, it enjoys an immense popularity among both cheesemongers and their customers, and has been a part of Union Market's lineup since we first put cheese on the stand.
Photo Credit: T. Depaepe