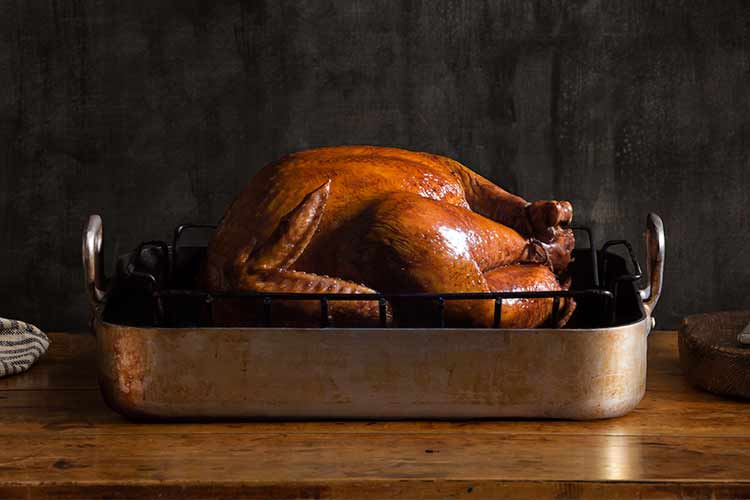 Thanksgiving is coming and it's time to order your turkey! This year we have a great selection of local, farm-fresh birds to choose from, all humanely raised and antibiotic-free.
Place your order early to guarantee you'll have the perfect fresh, never-frozen turkey ready to roast for your Thanksgiving feast. These top-quality, flavorful birds are available at a great value and are sure to make your centerpiece a memorable one.
Scroll down to see the different turkeys we're offering this year and to get details on how to place your order.
FREE-ROAMING TURKEYS – $2.99 / lb
Free-roaming, humanely raised, fresh, uncooked turkeys from Plainville Farms in Pennsylvania. Raised on family farms on an all-vegetarian diet without the use of antibiotics.
OVEN-READY BRINED TURKEYS – $3.99 / lb
Our free-roaming, humanely raised fresh turkeys from Plainville Farms are also available brined and oven-ready—all you have to do is stuff, truss, and roast them.
LOCALLY RAISED DIPAOLA TURKEYS – $4.49 / lb
The DiPaola family's fresh, flavorful turkey has long been a favorite in local farmer's markets for good reason. We're delighted to offer their whole, uncooked turkeys for Thanksgiving this year. Raised on a vegetarian diet without any antibiotics or added hormones.
FREE-ROAMING ORGANIC TURKEYS – $4.99 / lb
Fresh from Plainville Farms in Pennsylvania, uncooked turkeys raised exclusively on an all organic diet. Free-roaming, in a clean stress-free environment. No antibiotics, added hormones, or GMOs are ever used.
You can place your turkey order by phone or in person at your nearest Union Market. Orders must be placed by Friday, November 17, 2023. Please place your order at the store location where you wish to pick it up, and please note that supplies of turkeys in specific weight ranges are limited, so we recommend getting your order in early!
Cooking a turkey shouldn't be a daunting task. If you need advice on how to roast your bird, check out our recipe for the perfect roast turkey, where we share a simple, tried-and-true method to guarantee a bird with crisp skin and tender, juicy meat.
While turkey may be the centerpiece, a variety of delicious side dishes are a must at Thanksgiving. We'll have an array of excellent options at our Prepared Food counter to round out your holiday feast, including vegan and vegetarian options, all made from scratch in our Park Slope kitchen with the same high-quality ingredients we stock in our stores. This year we'll be offering an expanded selection of pre-packed side dishes to make for a quicker and easier shopping trip and to reduce contact points at our Prepared Food counter.
And remember, we'll be open on Thanksgiving Day from 7:30AM until 4PM at all five Union Market locations, so don't fret if you need any last-minute supplies on the big day.
Happy Thanksgiving from all of us at Union Market!