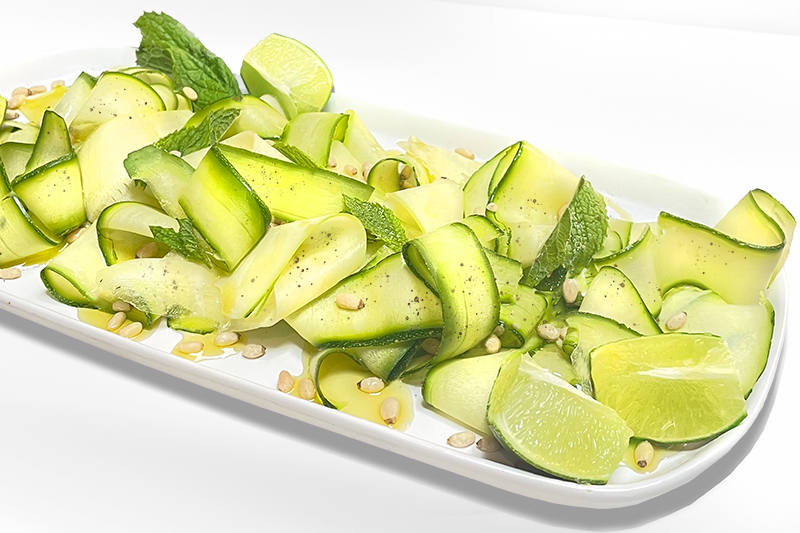 Sliced ever so thinly, tender squash ribbons become a canvas for a delicate drizzle of zesty lime juice and earthy mint. Seasonal ingredients impart cool and herbaceous notes to the no-cook dish, making it a perfect choice for those warm summer days when the kitchen beckons for simplicity and freshness.
This delightful carpaccio makes for a lovely appetizer or a light side dish alongside grilled meats or seafood. It can also serve as a beautiful centerpiece for a vegetarian or vegan spread. However you choose to enjoy it, be prepared for compliments and requests for the recipe.
With its simple preparation and stunning presentation, Summer Squash Carpaccio is an excellent addition to your summer repertoire. It's light, elegant, and bursting with the essence of the season. Let's dive into the recipe and discover how to create this delightful dish that will leave your taste buds dancing.
Summer Squash Carpaccio
By Sarah Diebboll
Serves 4
INGREDIENTS
2 medium-sized summer squash
1 lime
A handful of fresh mint leaves
Extra virgin olive oil
flaky sea salt and freshly ground black pepper, to taste
Optional garnish: shaved Pecorino Romano, and toasted pine nuts
INSTRUCTIONS
Begin by washing the zucchini under cool water and patting them dry with a kitchen towel. Using a peeler or a mandoline slicer, carefully slice the squash into thin, even ribbons. Arrange them on a serving platter in a single layer, slightly overlapping each other.
Next, zest the lime using a microplane or a fine grater, being careful to avoid the bitter white pith. Set the zest aside for later use. Cut the lime in half and squeeze the juice over the zucchini slices, evenly coating them. The lime juice will add a vibrant acidity that complements the squash's delicate flavor.
Take the fresh mint leaves and tear them into small pieces. Sprinkle the torn mint leaves over the zucchini slices, distributing them evenly. The mint will infuse the dish with a refreshing and aromatic twist.
Drizzle the carpaccio with extra virgin olive oil, using just enough to lightly coat the zucchini.
To finish, sprinkle the reserved lime zest over the carpaccio, enhancing its citrusy aroma and appearance.
Tips:
For an optional garnish, consider adding shaved Pecorino Romano, and toasted pine nuts. These additions will elevate the presentation and provide additional texture and flavors.