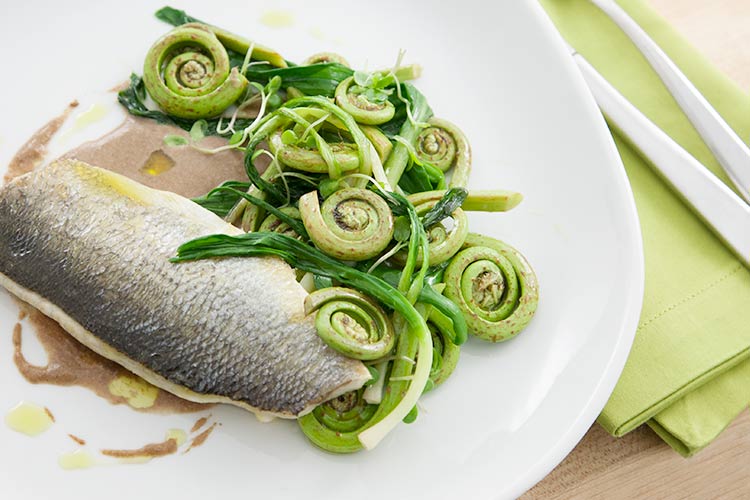 As the weather gets warmer and the first spring buds appear on the ground and in the trees, it's hard not to think of fresh, seasonal spring fare. Take a break from hearty and heavy winter fare with our chef Sandro Romano's seasonally inspired dish of roasted branzino, served with a sauté of verdant fiddlehead ferns, the first spring ramps, and a dollop of a delicious burnt bread sauce that's earthy and vibrant with the flavors of prosciutto, shallots, and walnuts.
Be sure to use a good quality prosciutto, like our San Daniele from Principe or our di Parma from Pio Tosini. You can get fiddleheads and ramps in our Produce department while the season lasts, and you'll find fresh, sustainably raised whole branzino at all our stores. Just ask one of our fishmongers to fillet it for you at the counter—they're happy to help!
For this recipe, we suggest making a batch of pickled ramps in advance and letting them brine for a couple days to develop ideal flavor.
Roasted Branzino with Fiddlehead Ferns, Pickled Ramps, and Burnt Bread Sauce
Serves 4
INGREDIENTS
Pickled ramps
½ lb ramps
½ cup white wine vinegar
½ cup water
3 tbsp granulated sugar
½ tsp salt
¼ tsp coriander seeds
¼ tsp black pepper
Burnt Bread Sauce
1.5 oz prosciutto, sliced thinly and cut crosswise into strips
2 medium-sized shallots, sliced thin
⅓ cup breadcrumbs
2 cups chicken or vegetable stock
¼ cup whole walnuts
1 oz cold, unsalted butter
Branzino
Fillets from 2 whole fish
6 tablespoons olive oil
Salt and pepper
Garnish
¼ lb fiddlehead fern
8 pickled ramps
2 tbsp olive oil
Salt and pepper
INSTRUCTIONS
Pickled ramps
Clean the ramps by running under cool water to remove any dirt from the roots and between the greens. Trim above the root leaving a bit of the leafy greens. Make sure to reserve the rest of the greens; they make a delicious pesto!
Place the ramp bulbs in a mason jar just large enough to hold them.
In a small saucepan, bring the water, vinegar, sugar, salt, and spices to a quick boil. Stir till the sugar and salt are dissolved. Pour over the ramp bulbs and seal tight with the lid of the mason jar. Let come to room temperature before storing in the fridge.
These can be used within a couple of hours but are even better after a couple of days.
Burnt Bread Sauce
Toast the breadcrumbs in a nonstick pan on the stovetop over medium-high heat until very dark, and almost burnt, stirring constantly. The breadcrumbs may smoke a little.
In a small saucepan, over medium-high heat, melt the butter till it begins to bubble slightly. Add the prosciutto and shallots and cook till they color slightly; do not let them become crisp or burn.
Add the stock and toasted breadcrumbs. Simmer for 30 minutes on low heat.
Add the walnuts and cold butter and blend in a food processor or using an immersion blender till the sauce is emulsified and smooth. Check for seasoning and adjust as needed, keeping in mind that the salty prosciutto means that you might have to add less salt than you expect.
Branzino
While the sauce is cooking, preheat the oven to 400°F.
Season the branzino fillets with salt, pepper, and olive oil. Place the fillets skin side up on lightly greased parchment paper on a sturdy roasting pan.
Roast for 6 minutes. The fish should flake easily and a cake tester or toothpick inserted into the thickest part of the fillet should enter without any resistance.
Garnish
Heat the olive oil in a small sauté pan over medium high heat until the oil begins to shimmer. Add the fiddlehead ferns and cook until tender. Add pickled ramps to warm through. Season to taste with salt and pepper.
To serve, drizzle the burnt bread sauce on plates and top with the roasted branzino and sautéed ferns and ramps.