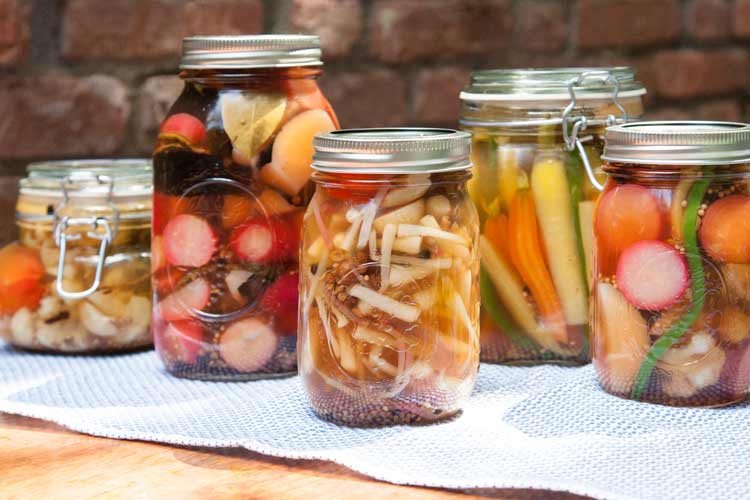 It's finally the time of year when beautiful multicolored radishes are popping up and things are beginning to look colorful again in the produce aisle.
This recipe for bright and delicious refrigerator pickles is the perfect way to highlight the best of the season's produce, and our technique eliminates the need for processing the preserves without steamers, special jars, or vacuum-sealed lids.
Quickly blanching the vegetables in boiling water ensures that they stay vibrant and colorful through the summer and into the gray days of fall. And a flavorful brine that's zesty with whole spices and just a touch of sweetness make these crunchy pickles the perfect snack or the ultimate complement to a cheese board or juicy grilled hamburger.
Spring Pickles
Makes 4 medium jars
INGREDIENTS
Vegetables
½ lb bite-sized cauliflowers florets
½ lb haricots verts (thin French green beans), cleaned, and ends trimmed
½ lb baby beets, washed, trimmed, and halved lengthwise
1 lb mixed black radishes, breakfast radishes, and red radishes, washed, trimmed and cut into evenly sized pieces
1 lb baby yellow and red carrots, washed, peeled, and cut in half lengthwise with some of the greens still attached
½ lb ramp bulbs. Separate the bulbs from the green leaves at the point where they change from white to green. Reserve the greens for another use.
Brine
4 cups water
6 cups apple cider vinegar
½ cup white granulated sugar
¾ cup salt
2 tsp cloves
1 tbsp fennel seeds
1 tbsp whole black peppercorns
1 tbsp yellow mustard seeds
1 tbsp coriander seeds
6 bay leaves
2 habanero peppers, seeded and quartered (or to taste)
6 garlic cloves, cut into halves
2 sprigs fresh thyme
2 sprigs fresh dill
INSTRUCTIONS
Vegetables
Bring a large pot of generously salted water to a boil. Keep a large bowl filled with ice water handy nearby to shock the vegetables as they come out from the water.
Working with each kind of vegetable separately (and making sure to cook the beets last), blanch the vegetables for 2 minutes in the boiling water before removing with a spider or slotted spoon and refreshing in the bowl of ice water for a few minutes. Drain the vegetables once they have cooled and set them aside separately until your brine is ready.
Brine
Combine all the ingredients for the brine in a large nonreactive pan (stainless steel or enameled cast iron will work well), bring to a simmer and let cook for 10 minutes.
After the brine has cooked for ten minutes, turn off the heat. At this point it can be used immediately or refrigerated for later use.
Distribute the vegetables between the four canning jars, filling the jars with the pickling liquid and sealing.
These preserves will safely keep in your refrigerator for up to six months unopened—although make sure to let them sit for at least a week before eating them, to really allow the flavors of the aromatics and the vegetables to meld.