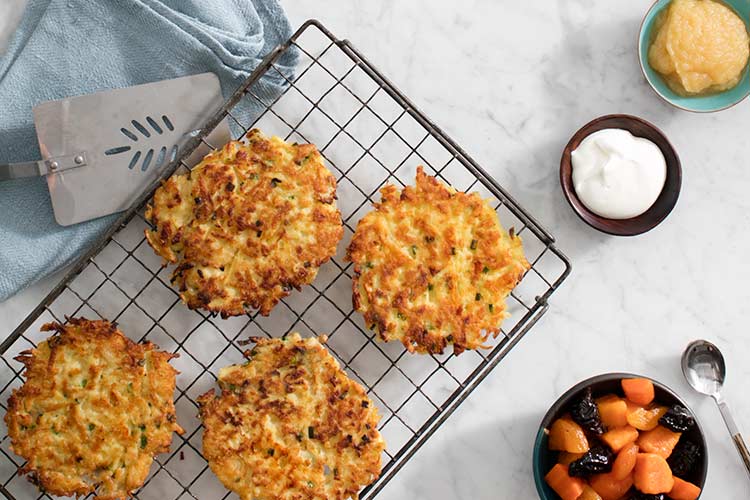 Let us join your festival of lights this year by taking advantage of our delectable menu of made-from-scratch classic Hanukkah dishes and fresh-baked desserts. From November 27 to December 6th, our Prepared Foods counter will feature all the sides, main courses, and sweet treats you'll need to create a feast to remember.
Our slow-cooked brisket, oven-roasted rotisserie chicken, potato latkes, and our bright and festive side dishes will have your guests taking second—or third—helpings. Of course, we've got dessert covered too, with a wide assortment of treats from local bakeries, like Lilly's Bake Shoppe, Las Delicias Patisserie, and Divine Chocolate. Scroll down to see everything we'll be featuring on our menu this Hanukkah.
And if you're cooking up your own feast, not to worry! Our aisles are piled high with essential holiday items, baking supplies, specialty products, and decadent seasonal indulgences, like oysters and caviar. So while you're at it, why not make Union Market your one-stop shop for Hanukkah, and give your food-loving family and friends a Union Market gift card or one of our custom-made gift baskets.
Happy Hanukkah from all of us at Union Market!
MAINS & SIDES
Available November 27 – December 6, 2021
at our Prepared Food counter
 TRADITIONAL BRISKET WITH CARROTS & ONION
$19.99 / lb
ROTISSERIE CHICKEN
Adobo, Lemon Herb, Rosemary & Garlic, and Salt & Pepper
$4.79 / lb
POTATO LATKES
$3.49 each
APPLE SAUCE
$5.99 / pint
TZIMMES
$6.99 / lb
DESSERTS
 BLUE & WHITE MINI COOKIES
Lilly's Bake Shoppe
CLASSIC BABKA
in Chocolate or Cinnamon
Lilly's Bake Shoppe
VEGAN RUGELACH
in Chocolate or Raspberry
Lilly's Bake Shoppe
GLUTEN-FREE RUGELACH
in Chocolate or Cinnamon
Las Delicias Pastisserie
ASSORTED COOKIES
Lilly's Bake Shoppe
CHOCOLATE GELT
Lake Champlain Chocolate
Divine Chocolate