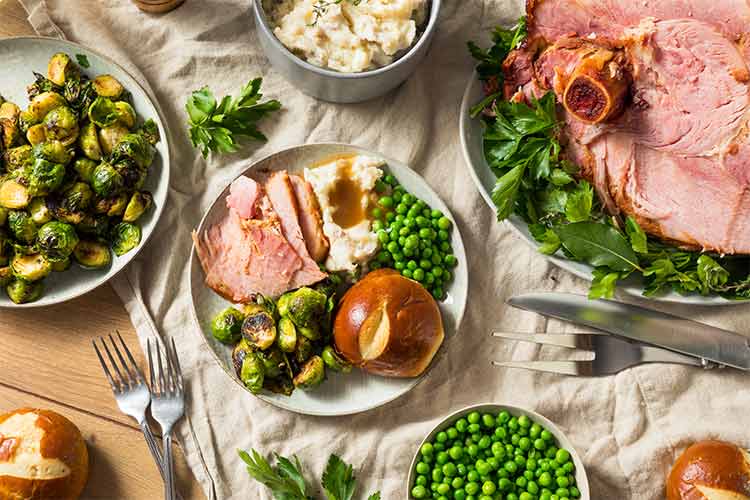 Celebrating Easter has traditionally meant gathering together for a festive meal with loved ones, but as New Yorkers continue to shelter at home and practice social distancing, celebrations will inevitably look a little different for many of us this year. Whether you're celebrating with family virtually or cooking for a smaller crowd than usual, Union Market is here to help make Easter dinner as delicious as possible.
You'll find classic spiral-cut hams, rib roasts, and a variety of cuts of lamb at our Butcher counter, all of which are antibiotic-free and sustainably and humanely raised. In our Prepared Food department, we'll have our popular, made-from-scratch quiches (perfect for Easter brunch!), and our housemade ham for those who don't want to cook their own centerpiece.
We're also offering traditional hot cross buns from Blue Duck Bakery and an array of treats and candies to add to your Easter basket, including assorted chocolates and Easter-themed petits fours. And if you're planning on doing some egg decorating, you're in luck! Just pick up a dozen of our Union Market brand organic, free-range eggs and one of our all-natural egg dying kits—or get creative and use everyday kitchen ingredients to dye your Easter eggs.
Happy Easter from all of us at Union Market!
Please note: due to high demand and supply issues caused by the novel coronavirus, some items may not be available. Thank you for understanding.
Available at our Butcher Counter
Antibiotic-free and humanely raised fresh meats
D'Artagnan Uncured Spiral-Cut Berkshire Ham
$7.99 / lb
D'Artagnan Uncured Boneless Ham
$7.99 / lb
Short Ribs
$14.99 / lb
Rib Roast
$21.99 / lb
Bone-In Leg of Lamb
$12.99 / lb
Boneless Leg of Lamb
$13.99 / lb
Rack of Lamb
$32.99
Rib Lamb Chops
$32.99