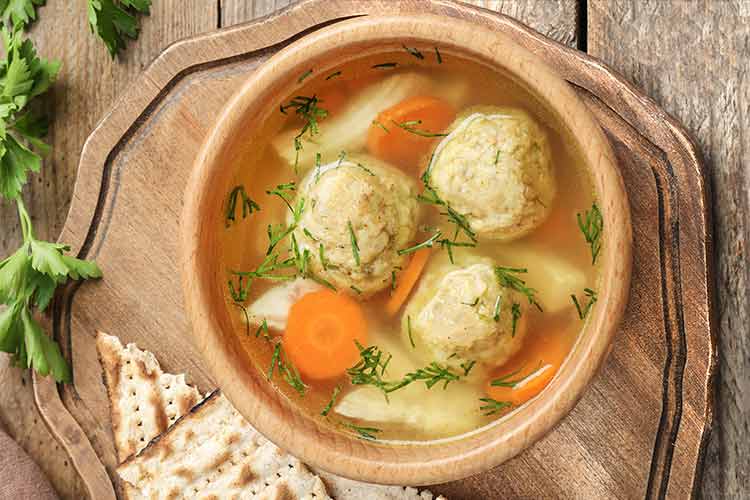 While you may not be able to gather with all of your friends and loved ones in person for Passover this year, don't let shelter-at-home directives stop you from celebrating with a delicious home-cooked meal.
Union Market has plenty of options for putting together an impressive Seder table, starting with the centerpieces you'll find at our Butcher counter. Choose from our humanely raised, antibiotic-free brisket, lamb, and more. And if you're looking for a wholesome centerpiece that's ready to eat, we'll also have our signature rotisserie chickens available in a variety of flavors—scroll down to see our selection of centerpieces.
When it comes to matzo, matzo soup, and all the fixings, we'll be carrying products from local producers like the Lubavitch Matzah Bakery, Streit's, Manischewitz, and Ben Z's Hungarian-Style Gelfite Fish.
And of course, we haven't forgot about sweets and treats! We'll have gluten-free bon bons, chocolate-dipped macaroons, raspberry and chocolate rolls, and seven-layer cake, plus classics like black and white cookies, linzer tarts, rainbow cookies, and rugelach.
Happy Pesach from all of us at Union Market!
Please note: due to high demand and supply issues caused by the novel coronavirus, some items may not be available. Thank you for understanding.
Available at our Butcher Counter
Antibiotic-free, humanely raised, and no added hormones
Brisket
$12.99 / lb
Short Ribs
$14.99 / lb
Rib Roast
$21.99 / lb
Bone-In Leg of Lamb
$12.99 / lb
Boneless Leg of Lamb
$13.99 / lb
Rack of Lamb
$32.99
Rib Lamb Chops
$32.99
FREE-RANGE ROTISSERIE CHICKEN
Local, antibiotic-free, humanely raised, and no added hormones
Adobo, Lemon Herb, Rosemary & Garlic, or Salt & Pepper
$4.79 / lb