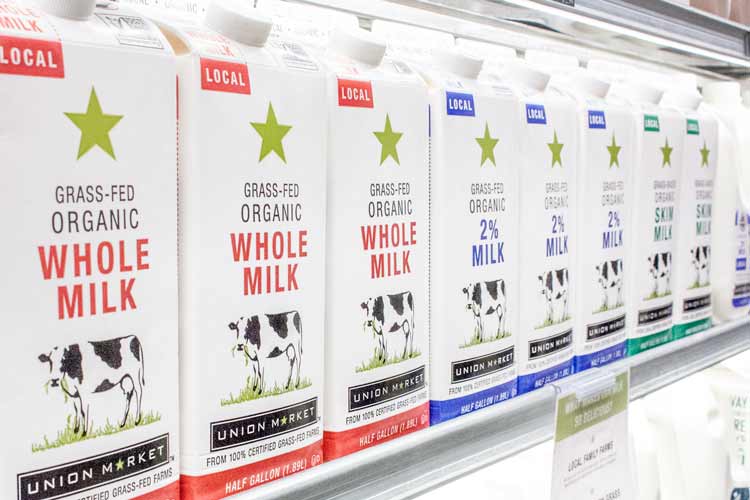 We're beyond excited to introduce our brand-new line of Union Market local, organic, grass-fed milk! Our buyers have gone the extra mile to source this fantastic-tasting, high-quality milk and make it available to our customers at a great value. Aside from the price, here's what makes our milk so special:
LOCAL, ORGANIC FAMILY FARMS
We love supporting local producers, which is why we source our milk from small-scale, family-run Amish and Mennonite farms located mostly in Southeastern Pennsylvania. Their impeccable history of land and livestock stewardship dates back generations, just like their organic and sustainable farming methods.
We think that cows raised the way nature intended produce milk that's tastier and healthier—not only for you and your family, but for the planet too! Sustainability and quality are core values at Union Market, and we're proud to offer milk that's both certified organic and 100% grass-fed, with the exception of our skim milk, which is grass-based rather than certified 100% grass-fed.
Pasteurization is an important part of getting milk from the farm to your fridge, but we believe that more isn't always better. While most milks are ultra-pasteurized at high temperatures to extend their natural shelf life from days to months, we use a gentle, low-temperature pasteurization process to retain maximum flavor and nutrient value. Because our milk isn't ultra-pasteurized, it's best enjoyed within 5-7 days of opening.
Our milk line currently includes Whole, 2%, and Skim in half-gallon cartons, as well as Whole and 2% in gallon bottles. If you try our milk, we'd love to hear what you think! Send us your comments over email or via Instagram, Twitter, or Facebook.