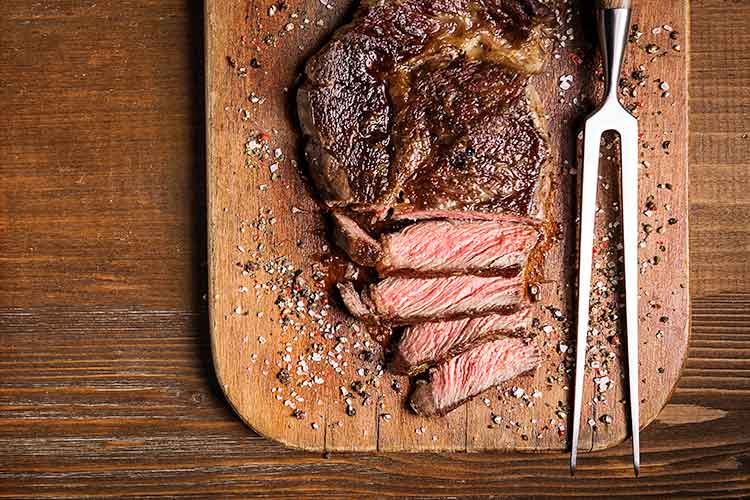 A summer breeze will be blowing in this weekend for Memorial Day, carrying the delicious scents of outdoor BBQs. Let us help you stock up for the long weekend with an incredible selection of prepared food, juicy steak, fresh seafood, and healthy vegetarian options to satisfy everyone, so you can focus on relaxing this holiday weekend.
The centerpiece of most meals will be the protein, and we've got some special new arrivals, including 100% grass-fed steak from Autumn's Harvest Farm, an animal welfare certified family-run farm in the Finger Lakes region of NY State. Their grass-fed ribeye is currently on special for a great price at $5.00 off per lb.
If you're new to grass-fed steak, you're in for a treat! The incomparably rich flavor stands up well to bold marinades or rubs that can overwhelm milder tasting grain-finished beef. Ask your butcher what they recommend or pick up your preferred BBQ sauce—and remember, grass-fed beef cooks about 25-30% faster than grain-finished beef so be sure to adjust your cooking time accordingly. If you don't have the equipment for traditional grilling, you're in luck! We've got all the supplies you'll need, starting with 14" Weber Smokey Joe grills, just the right size for our urban landscape.
In addition to our new grass-fed options for steak, we're also delighted to now offer pasture-raised sausage from Brooklyn's own Meat Hook butcher shop. Their artisanal sausages are on special right now for $2.00 off and available in two varieties, both mouthwateringly delicious and ideal for the grill: classic bratwurst or serrano and cheddar.
And don't forget about burgers! We grind our burger blend in-house fresh daily and, like all of the meat you'll find at our butcher counter, it's always antibiotic-free and humanely raised without the use of added growth hormones.
Of course, there's more to grilling than burgers and steaks. We're proud to carry a beautiful selection of sustainably sourced, fully traceable seafood, including salmon, swordfish, tuna, and shrimp, which are perfect to cook over some of our natural 100% hardwood lump charcoal.
For those who prefer to eat plant-based, we also offer plenty BBQ-friendly vegan options like Beyond Meat burgers and Smart Dogs, and you can never go wrong with fresh vegetables brushed with extra virgin olive oil and tossed on the grill.
Whether you're in a yard, a sunny park meadow, or sitting on the fire escape, we hope you enjoy a flavorful summer feast this holiday weekend.