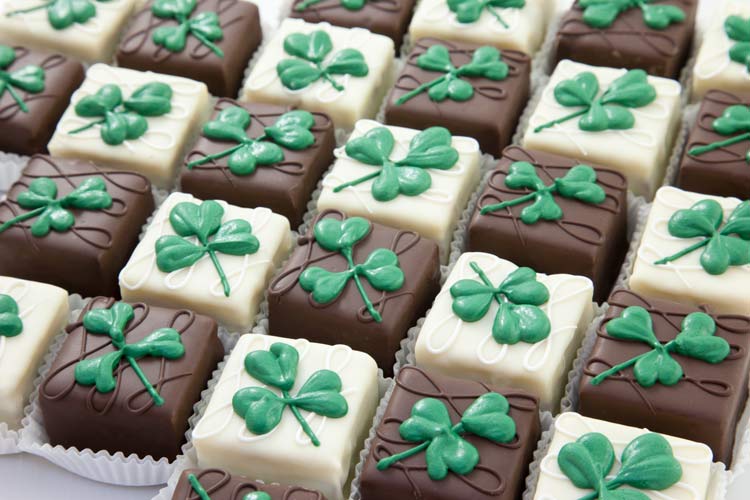 A very happy Saint Patrick's Day to all our lucky Union Market shoppers!
We're excited to give you a sneak peak at some of the delicious breads, cheeses, and prepared meals we'll have on offer to help you celebrate the big day this weekend.
On Sunday, March 17th, we'll have our much-loved Irish BLTs available at the Prepared Food counters in all our stores. We top a meltingly tender slab of Guinness-braised pork belly with sharp Irish cheddar, green tomatoes, Bibb lettuce, and mayo and serve it on a chewy ciabatta roll. It's the one day a year you can get this popular sandwich, so come by early! We'll also have our classic housemade corned beef and cabbage dish available on both Saturday and Sunday.
If you're looking for the perfect way to get your Saint Patrick's Day started, try the festive green bagels at our Bakery counter.  Or pick up a loaf of Tom Cat Bakery's traditional Irish soda bread—baked locally in Long Island City. It's the perfect complement to a smear of rich Kerrygold butter.
For those of you looking to share the joy of Saint Patrick's Day with edible gifts you can also pick up adorable shamrock petits fours—each one a bite-sized morsel of deliciousness.
And, as always, our beer selection features the best of artisanal breweries, as well as Saint Paddy's stalwarts like Guinness and Brooklyn Brewery's Dry Irish Stout. And if you can't enjoy your beer without a bag of chips, don't worry—we'll have plenty of Keogh's Irish crisps on hand, crunchy golden-brown potato chips straight from the Keogh Family farm near Dublin. Their Shamrock and Sour Cream crisps are a longtime staff favorite.
However you choose to indulge, we hope you have a delicious Saint Patrick's Day!