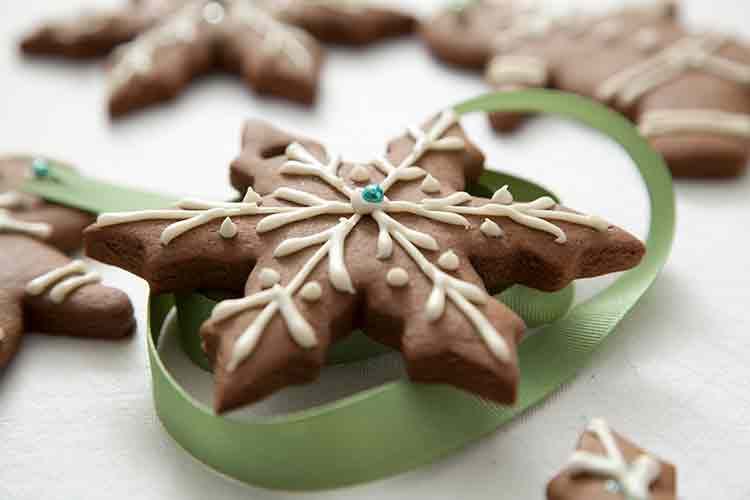 'Tis the season to celebrate—with food! We have everything you'll need to put together a Christmas celebration for the ages, including a fantastic selection of centerpieces at our Butcher counter and an abundance of ready-to-eat dishes at our Prepared Food counter.
Whether your feast calls for a standing rib roast, free-roaming turkey or goose, spiral-cut ham, beef tenderloin, a crown roast of pork, or a leg of lamb, your centerpiece is sure to shine given our selection of top-quality antibiotic-free and humanely raised meats.
Call any of our stores or stop by in person to order the perfect centerpiece for your Christmas dinner. We'll be taking orders until December 19th. Remember, the earlier you place your order the better!
At our Prepared Food counter, we'll have plenty of delectable company for your Christmas ham, turkey, or goose. Choose from dishes like ginger and garlic-glazed ham, green beans with almonds and shallots, pear and parsnip purée, red wine-poached pears, beet salad with candied pistachios and truffle vinaigrette, and more, all prepared from scratch in our Park Slope kitchen.
Our Christmas Menu of prepared food will be available from December 19 until December 24. (Don't forget, we'll be closed for the holiday on Christmas Day, December 25!)
We know that desserts are the real highlight of the season, and in addition to all the mains and sides to choose from, we're delighted to offer a variety of sweet Christmas treats like festive panettone and stollen to a celebratory selection of pies and cakes from local favorites like Blue Duck Bakery, Steve's Authentic Key Lime Pies, Junior's Cheesecake, Ladybird Bakery, and Artisan Bakers.
And if you're looking for the perfect Christmas gift for the food-lover in your life, just give our Catering department a call at 347.821.9860 and let us help you put together a custom gift basket made with all your favorite yuletide treats.
From Our Butcher Counter
Accepting orders December 1 – 19, 2017
UNCURED SPIRAL-CUT BONE-IN HAM
$5.99 / lb
UNCURED BONELESS HAM
$6.99 / lb
FREE-ROAMING TURKEY
$2.99 / lb
FREE-RANGE GOOSE
$12.99 / lb
STANDING RIB ROAST
$19.99 / lb
WHOLE BEEF TENDERLOIN
$29.99 / lb
PORK TENDERLOIN
$9.99 / lb
CROWN ROAST OF PORK
$9.99 / lb
BONE-IN LEG OF LAMB
$12.99 / lb
CROWN ROAST OF LAMB
$32.99 / lb
PHEASANT
$12.99 / lb
CAPON
$7.99 / lb
DUCK
$5.99 / lb
Mains & Sides
Available December 19 — December 24, 2018
at our Prepared Food counter
GINGER & GARLIC GLAZED HAM
$17.99 / lb
MAPLE & ROSEMARY-BRINED TURKEY BREAST
$17.99 / lb
CREAMY MASHED POTATOES
$5.99 / lb
GREEN BEANS WITH ALMONDS & SHALLOTS
$10.99 / lb
PARSNIP & PEAR PURÉE
$8.99 / lb
BEET SALAD WITH CANDIED PISTACHIOS
& TRUFFLE VINAIGRETTE
$9.99 / lb
ROASTD CARNIVAL SQUASH
$10.99 / lb
SPICE-GLAZED CARROTS WITH CITRUS & SHERRY
$10.99 / lb
RED WINE-POACHED PEARS
$1.49 each
Desserts
PANETTONE
Flamigni
Rustichella
Tre Marie
PIES
Blue Duck Bakery
Steve's Authentic Key Lime Pies
CAKES
Artisan Bakers
Junior's Cheesecake
Ladybird Bakery
GLUTEN-FREE
Trentasette Panettone
The Maine Pie Co. Pies