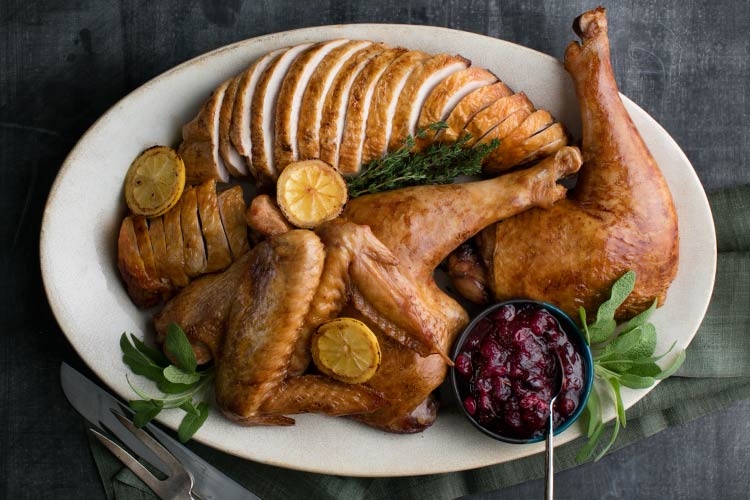 Thanksgiving is almost here. It's time to gather family and friends around for a cozy, autumnal meal and that means that it's also time to get cracking on ordering the centerpiece—the gorgeous turkey that we're looking forward to already.
We know that you have a lot on your plate as turkey day approaches, so let us give you a hand with finding the perfect bird for your Thanksgiving Day feast, whether it's one of our signature free-roaming birds, an oven-ready brined turkey, or a heritage breed or organic, pasture-raised bird.
All of our turkeys are fresh (never frozen), humanely raised, antibiotic-free, and available to pre-order. Our deadline for ordering is Friday, November 17, but supplies of turkeys in specific weight ranges are limited, so place your order early! We accept orders in person or by phone—stop by or call your nearest Union Market today to reserve your turkey.
And if you're not sure how best to cook your turkey so that it has crisp, golden skin and tender, juicy meat, you'll definitely want to check out our favorite Thanksgiving Turkey recipe. It's earned rave reviews ever since we first shared it!
FREE-ROAMING TURKEYS – $2.49 / lb
Free-roaming, humanely raised fresh turkeys from Plainville Farms in Pennsylvania. Raised on an all-vegetarian diet without the use of antibiotics.
OVEN-READY BRINED TURKEYS – $2.99 / lb
Our free-roaming, humanely raised fresh turkeys from Plainville Farms are also available brined and oven-ready—all you have to do is stuff, truss, and roast them.
HERITAGE BREED FREE-RANGE TURKEYS – $3.99 / lb
Free-range heritage breed Nicholas turkeys are prized for their abundant flavor and moist, tender texture. Raised the old-fashioned way at Goffle Road Farm in New Jersey, without antibiotics or added hormones, with plenty of fresh air and the ability to move freely.
PASTURE-RAISED ORGANIC TURKEYS – $4.99 / lb
Certified organic fresh turkeys from Hidden Camp Farms in New York State. These pasture-raised turkeys roam where nature intended: on green, grassy pastures in the fresh air and sunshine. No antibiotics, added hormones, or GMOs are ever used.
You can place your turkey order by phone or in person at your nearest Union Market. Orders must be placed by Friday, November 17, 2017.
Please place your order at the store location where you wish to pick up, and please note that credit card information is required to place an order, and orders not picked up are subject to a 50% cancellation fee.