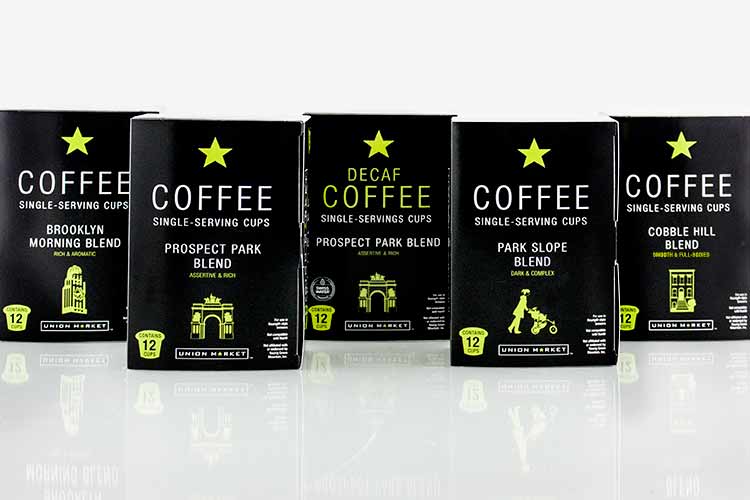 We're delighted to announce our new line of Union Market single-serving coffee cups. Use them in your Keurig®-style coffee maker for a delicious, fresh-brewed cup of coffee.
Our Union Market cups combine the convenience and speed of single-serve home-brewed coffee with the great taste of our signature line of coffees, made from the finest responsibly sourced beans from around the world, locally roasted and custom-blended just for us.
We've gone to great lengths to provide the highest quality coffees at the best value for our customers. Our dual-cup packaging allows water to fully permeate the coffee grounds, ensuring a stronger-tasting cup of coffee with superior flavor, and we've made sure that both the inner and outer cups are 100% recyclable.
Now available at all our stores in these four varieties:
Brooklyn Morning Blend
A spicy, intensely flavored wake-up call in a cup. This assertive, low-acidity blend of Brazilian Santos, Monsoon Malabar, Mexican Mixteca, Java, and Colombian Supremo beans is the perfect way to kick off your day.
Cobble Hill Blend
We're bringing back a classic with this full-bodied coffee made in the traditional Mocha Java style. We use medium-roasted beans for a smooth, rounded flavor paired with bright acidity.
Prospect Park Blend
We dark-roast Brazilian Cerrado and Colombian Supremo beans along with a fine Indian variety to create a distinctive blend that's more assertive than Viennese, but just a touch lighter than Italian Espresso. Also available in Decaf.
Park Slope Blend
Three of the world's great coffee-growing regions contribute to this robust, dark-roasted blend. We combine Central and South American beans with a fair trade Indian bean to make a smooth, low acidity blend that has rich hints of dark chocolate and berries.
Try a cup: we guarantee you'll taste the difference!