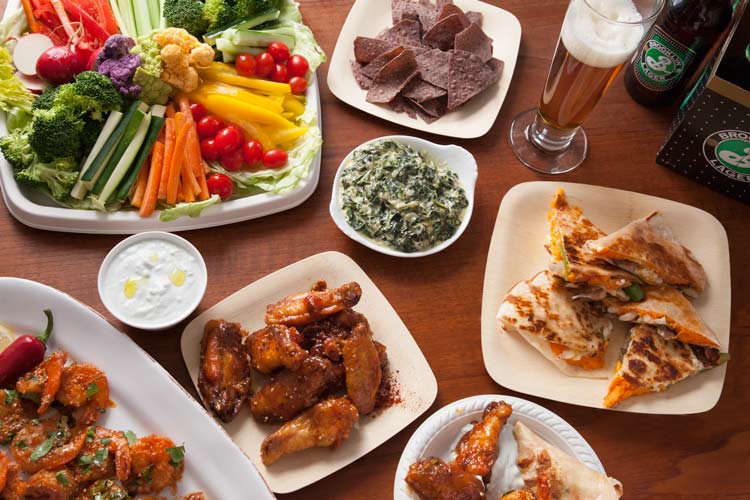 The stage is set for Super Bowl 50. The Panthers and the Broncos are getting ready for the big showdown—shouldn't you be making preparations, too?
You may not be able to make it to Levi's Stadium, but all the ingredients for a perfect game day at home are just around the corner. No matter who you're rooting for, head to Union Market and let us worry about keeping the table piled high with all the essentials.
At our Prepared Food counters, you'll find favorites like quesadillas packed with sweet potatoes, queso fresco, oyster mushrooms, and spicy pickled jalapeños; two kinds of delicious chicken wings; and buttermilk-marinated fried chicken tenders with a side of blue cheese dressing that's perfect for dipping. And our ready-to-go cheese and crudités platters make a great complement to any other finger foods or snacks you're serving. Or try our popular slow-cooked chili, and don't be shy with the toppings: we carry them all, from amazing cheeses and sour cream to a stellar selection of tortilla chips, to our famous housemade guacamole.
All of these great options will be available during Super Bowl weekend (February 5-7, 2016), so make sure to sample them while you can!
SUPER BOWL 2016 MENU
SMOKY SWEET POTATO QUESADILLA
Queso Fresco, Cheddar, Oyster Mushrooms, Pickled Jalapeños and Shallots
$6.99 each
BUFFALO CHICKEN TENDERS
Buttermilk-Marinated with Blue Cheese Dressing
$11.99 / lb
BEEF AND BLACK BEAN CHILI
Poblano, Chipotle, and Ancho Chilis
$11.99 / qt
HONEY-SRIRACHA SHRIMP
Scallions and Sesame Seeds
$24.99 / lb
HOT WINGS
Old Bay and Hot Sauce
$9.99 / lb
SWEET & STICKY WINGS
Pepper Jelly and Bacon Dust
$9.99 / lb
CRUDITÉS PLATTER
Carrots, Broccoli, Cucumber, Fennel, Celery, Peppers, Cauliflower, Romanesco, Radishes, and Grape Tomatoes
$14.99 each / serves 4 – 6 people
CHEESE PLATTER
Cheddar, Pepper Jack, Dill Havarti, Maytag Blue, Crackers, Crostini, and Grapes
$19.99 each / serves 4 – 6 people
SPINACH DIP
Shallots, Garlic, Jalapeño, Ginger and Crème Fraîche
$5.99 / 8 oz
BLUE CHEESE DIP
$5.99 / 8 oz
RANCH DRESSING
$4.99 / 8 oz