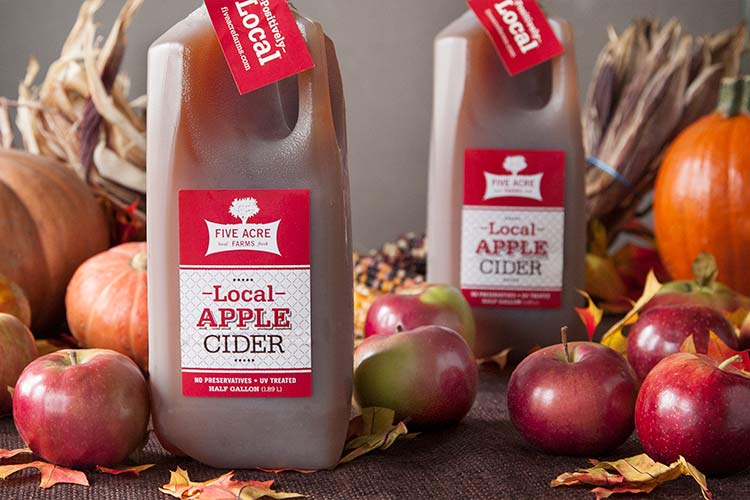 Cider season is in full swing, so stop by Union Market to pick up a jug of Five Acre Farms Local Apple Cider—and come join us for a special Halloween celebration!
This Friday, October 30th, you'll get to meet the folks behind Five Acre Farms as they help us get into the spirit of the season at our Park Slope North store on Union Street. From 2PM-5PM, we'll be sampling their sweet, crisp apple cider and giving out non-GMO, small-batch versions of your favorite Halloween candy. Costumes are encouraged!
We've been working closely with Five Acre Farms right from their start almost five years ago. We love the taste of their cider, which is always made from 100% local apples. This season's cider comes from the family-owned Samascott Orchards in New York's Hudson Valley and Clark Brothers Orchards, the last of the original apple farms in an area of Western Massachusetts known, appropriately, as Apple Valley. The cider is pressed from the most flavorful varieties available—refreshing Macintosh, wine-flavored Empire, famous and familiar Red Delicious, small and crunchy Spartan, winter-hardy heirloom Northern Spy, and others—all picked when they're perfectly ripe. And Five Acre Farms cider is always preservative-free and either UV-treated or pasteurized to kill harmful bacteria.
But they don't just make great cider: you can find Five Acre Farms milk, half & half, heavy cream, buttermilk (great for holiday baking!), yogurt, kefir, apple juice and apple sauce at our stores. Every Five Acre Farms product is sourced from their network of sustainable farmers and made within 275 miles of our stores.
We hope to see you at our Park Slope North store on Friday, October 30th, 2PM-5PM, for some delicious cider, yummy treats, and Halloween fun, and a chance to talk to Five Acre Farms about their work making delicious local food and supporting local farmers.
And don't forget to take advantage of our special promotion on Five Acre Farms Local Apple Cider. Now through November 11, 2015, you can pick up a half-gallon for just $3.99!