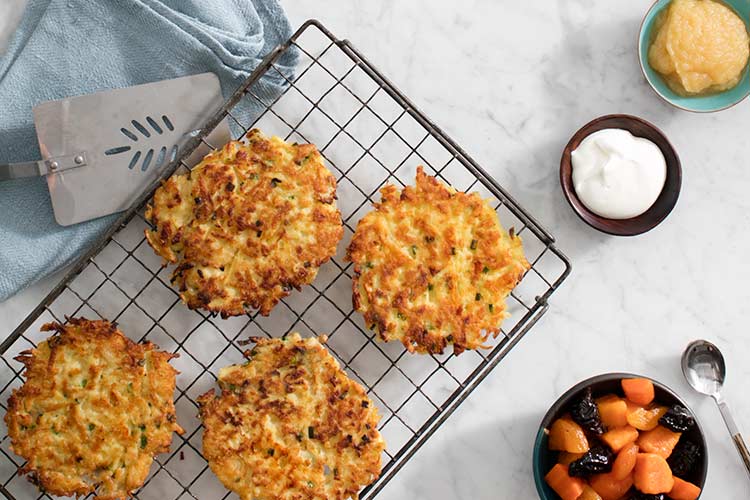 Celebrate the festival of lights with a bright, flavorful menu that makes the best of fresh, seasonal ingredients. We've got everything you'll need to make your Hanukkah celebration memorable and delicious.
From December 18th to December 26th, our Prepared Foods counter will feature an array of festive dishes perfect for your Hanukkah table, including traditional brisket with carrots and onions, beautifully roasted rotisserie chickens in a variety of flavors, and our zesty, flavorful citrus-glazed salmon. We'll also have our own housemade potato latkes, apple sauce, and tzimmes—in short, everything to ensure your celebration is as picture-perfect as it is delicious.
To satisfy your sweet tooth, choose from an assortment of baked goods from Lilly's Bake Shoppe in Brooklyn, including rainbow, Linzer, Blue and White Mini Cookies, classic babkas (available in either chocolate or cinnamon), and vegan rugelach. We also have gluten-free rugelach from Las Delicias Patisserie, chocolate gelt from Lake Champlain Chocolate and Divine Chocolate, and matz0 soup mix, crumbs, and flats from The Matzo Project.
If you're looking for something to give the food-lover in your life this Hanukkah, consider a Union Market gift card, or give our Catering department a call at 347.821.9860 and ask about our custom-made gift baskets, which we can fill with all your favorite delicacies—from baked goods and chocolates to cheeses and fine olive oils.
MAINS & SIDES
Available December 18 – December 26, 2022
at our Prepared Food counter
 TRADITIONAL BRISKET WITH CARROTS & ONION
ROTISSERIE CHICKEN
Adobo, Lemon Herb, Rosemary & Garlic, and Salt & Pepper
$5.29 / lb
POTATO LATKES
$3.99 each
APPLE SAUCE
$5.99 / pint
TZIMMES
$7.99 / lb
DESSERTS
ASSORTED 
Lilly's Bake Shoppe
CLASSIC BABKA
in Chocolate or Cinnamon
Lilly's Bake Shoppe
VEGAN RUGELACH
in Chocolate or Raspberry
Las Delicias Pastisserie
ASSORTED COOKIES
Rainbow, Linzer, and Crinkle Cookies
Lilly's Bake Shoppe
CHOCOLATE GELT
Lake Champlain Chocolate
Divine Chocolate