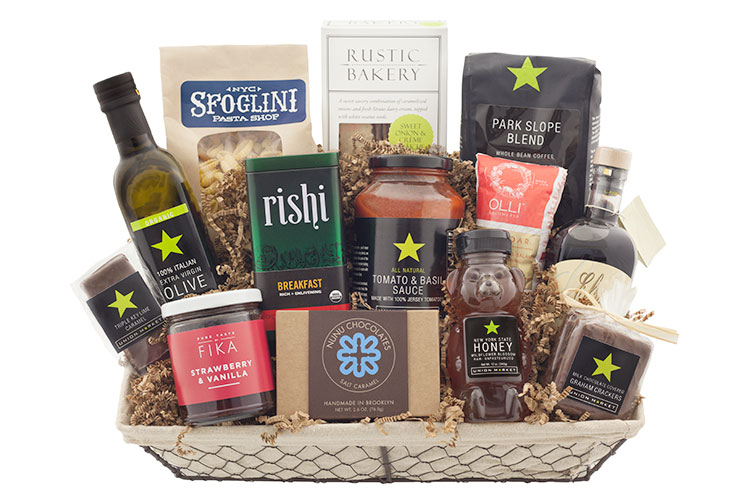 The season for giving is upon us! Along with the joy of giving comes the inevitable confusion about picking the perfect gift. We can commiserate—there are so many delicious things out there, how do you choose the right one for the discerning gastronome in your life?
OUR "MARKET PICKS" GIFT BASKET
We'll scour the aisles of our stores just for you and handpick some of our very favorite items, and then package them up in a handsome basket and bow. We'll include sweet and savory indulgences alike, from olive oil and fine chocolate to coffee and pasta sauce. Why choose just one present for the food lovers in your life when you can get a whole basketful?
The contents and pricing of our "Market Picks" gift basket varies depending on availability, so please inquire with our Catering department for more details.
CUSTOM-ORDER GIFT BASKETS
Prefer to curate your own gift basket? Not a problem! Just pick what you want from our wide selection of chocolates, cheeses, oils, pastas, and more, and we'll put it together for you in a gift-worthy basket, for the cost of the contents plus $25 for materials and assembly.
For more info or to place an order, you can reach our Catering department at 347.821.9860 or catering@unionmarket.com, and please make sure to give us at least 48 hours' advance notice to put your basket together.
GIFT CARDS
Still not sure what your food-minded friends and family would love to get? We've got you covered with our gift cards in any denomination $10 or greater. Give your loved ones the opportunity to wander through our aisles filling their baskets with all kinds of delicious treats!
START YOUR HOLIDAY SHOPPING NOW!
To get our "Market Picks" basket, order a custom gift basket, or purchase a gift card, contact our Catering department at 347.821.9860 or catering@unionmarket.com.