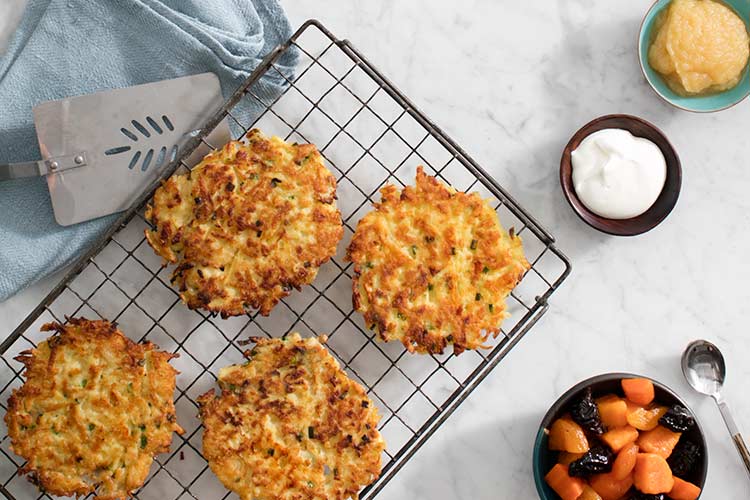 Let your Hanukkah celebrations be bountiful! Make sure you have all you need (and then some) by stocking up at Union Market. Get supplies to make your own, or pick up some of our popular housemade latkes at our Prepared Foods counter, along with fixings like sour cream, tzimmes, and our delicious, made-from-scratch apple sauce.
Aside from latkes, our Prepared Food counter has tender brisket with carrots and onions, rotisserie chickens aplenty, beautiful mustard-crusted salmon, and more on offer for the duration of Hanukkah.
And don't forget to add some treats to your basket! Choose from our selection of desserts for a sweet addition to the festivities.
PREPARED MAINS AND SIDES
Available December 22, 2016 – January 1, 2017
at our Prepared Food counter
 TRADITIONAL BRISKET WITH CARROTS & ONION
$13.99 / lb
ROTISSERIE CHICKEN
Adobo, Lemon Herb, Rosemary & Garlic, and Salt & Pepper
$4.69 / lb
MUSTARD-CRUSTED SALMON
$21.99 / lb
PETITE CONFETTI POTATOES
$6.99 / lb
POTATO LATKES
$2.99 each
APPLE SAUCE
$6.99 / lb
TZIMMES
$6.99 / lb
DESSERTS
BLUE & WHITE MINI COOKIES
CHANUKAH COOKIES
RUGELACH
BABKA