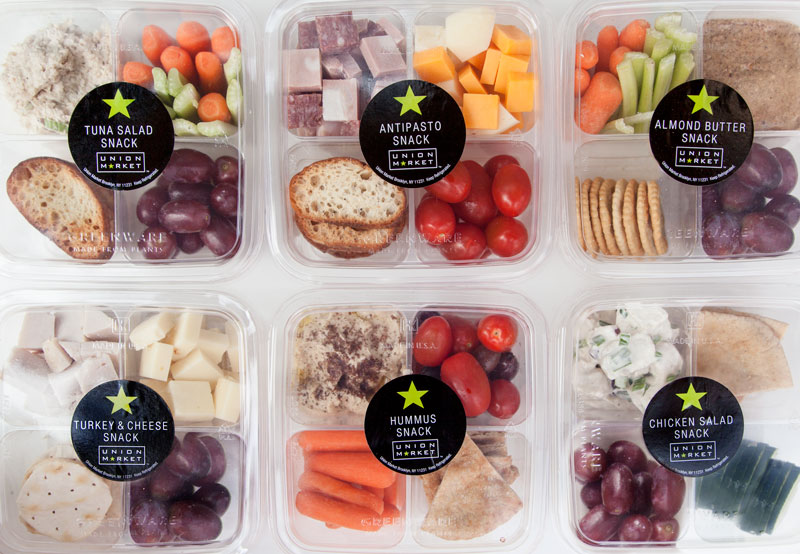 The rumors are true—summer is almost over and school is right around the corner! Get your kids excited about returning to school with something delicious from Union Market to liven up their lunchboxes.
Don't have time to make a selection of delicious snackables for your kids but want to make sure they have something healthy to eat at lunchtime? No problem: just choose from our range of new pre-packed snack boxes!
ANTIPASTO SNACK BOX 
A selection of cubed cheeses and meats, packed with grape tomatoes and crostini
TURKEY & CHEESE SNACK BOX 
A mix of cubed turkey and cheese, along with red grapes and crackers
TUNA SALAD SNACK BOX 
Comes with our housemade tuna salad, and celery sticks, crostini, and baby carrots for dipping, as well as red grapes for that little something sweet
CHICKEN SALAD SNACK BOX 
Packed with our housemade chicken salad, sliced cucumber, whole-wheat mini pita triangles, and red grapes
HUMMUS SNACK BOX 
A healthy serving of our Union Market hummus, along with baby carrots, kalamata olives, and whole-wheat mini pita triangles
ALMOND BUTTER SNACK BOX
A generous scoop of almond butter packed along with celery sticks, baby carrots, red grapes, and crackers
And the choices don't end there. We have a wide selection of kid-friendly snacks and drinks for you to choose from.
HONEST KIDS ORGANIC THIRST QUENCHERS JUICE POUCHES 8-PACKS
Stock up on these organic, high fructose corn syrup-free juice pouches that come in two fruit-filled flavors: Super Fruit Punch and Appley Ever After.
KNUDSEN JUICE BOXES 4-PACKS
Great for the playground or for a treat in their lunch box! Comes in pear, apple, and grape flavors.
HORIZON ORGANIC SINGLE-SERVE MILK CARTONS
These single-serve boxes of lowfat milk are perfect for lunch boxes. They're a great alternative to juice boxes and are full of protein and calcium for growing kids. Comes in plain and chocolate.
HORMONE-FREE AND ANTIBIOTIC-FREE DELI MEATS
Choose from our selection of organic and antibiotic- and hormone-free deli meats from trusted brands like Skytop Farms and Applegate. Get it sliced to order or in convenient pre-sliced packs.
PEANUT BUTTER AND CO. PEANUT BUTTER
The all-natural peanut butter that kids and adults both love. In a variety of flavors that are perfect for sandwiches, or for scooping up with celery sticks.
SANTA CRUZ ORGANICS APPLE SAUCE CUP 6-PACKS
These easy-to-carry apple sauce cups pack a nutritional punch, and are made with no added sugar.
ORGANIC VALLEY STRINGLES STRING CHEESE
Organic Valley's string cheese snacks are full of protein and calcium and are the perfect snack for kids of all ages.
PAMELA'S GLUTEN-FREE HONEY GRAHAMS
Pamela's Honey Grahams have all the taste of traditional graham crackers but are completely gluten-free, nut-free, and soy-free and are made from organic, non-GMO honey and butter.
GO GO SQUEEZ APPLESAUCE TO GO 4-PACKS
Almost like having an apple in your hand, these applesauce packs are 100% natural and minimally processed with no high fructose corn syrup.
STRETCH ISLAND FRUIT CO. FRUIT STRIPS
These fruit leathers are easy to carry, are full of the goodness of naturally sweet fruit and have no added sugar. Fruit-forward flavors include Orchard Cherry, Autumn Apple, and Summer Strawberry.
And we're looking out for you before and after school, too. Stop by any of our stores and pick up a yogurt parfait made with fresh fruit, granola and low-fat yogurt or check out our full selection of bagels and toppings that your kids (and you!) will love.
And as a reward for their long day at school, give them one of these healthy, tasty snacks:
IMMACULATE GLUTEN-FREE COOKIE DOUGH
Bake up a batch of these delicious chocolate chunk cookies at the beginning of the week and you'll be set for after-school snacks all week long—if you can keep from eating them all at once!
RUBY ROCKETS POPSICLES
Summer may be over, but it's always popsicle season. Stock up on these delicious and all-natural pops, which come in a variety of kid-friendly flavors like Rock-It Red and Planetary Pink Lemonade, featuring fresh fruit and vegetables in a form that kids will love.
NEWMAN'S OWN NEWMAN-O'S AND FIG NEWMANS
Let your kids indulge with these childhood treats—they're made with organic ingredients, limited additives, and they taste great, too!
JUSTIN'S PEANUT BUTTER CUPS
These scrumptious cups come in white, dark, and milk chocolate varieties. Made with all organic ingredients and fair-trade chocolate, you'll be torn between giving them to the kids and saving them for yourself.