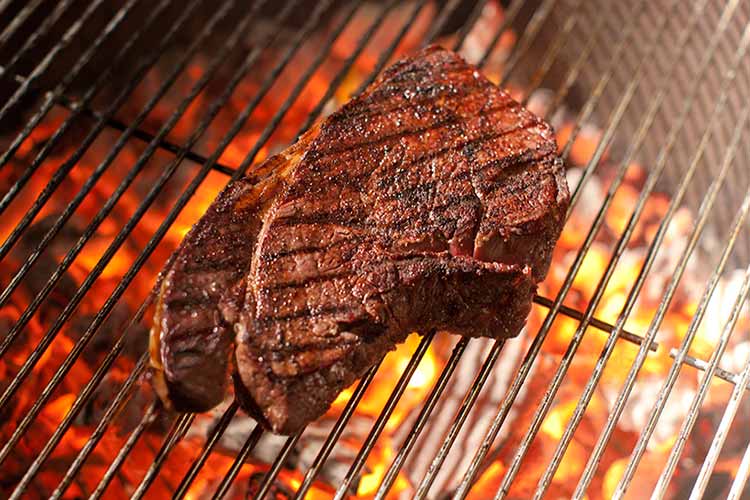 As we gear up to celebrate the unofficial start of summer this Memorial Day weekend, one question looms large: what to throw on the grill? Not to worry, we've got lots of options and ideas to make your cookout complete, from meat to seafood to veggie-driven dishes.
Of course, there's classic cookout fare, like BBQ chicken, baby back ribs, and hot dogs and burgers of all kinds. When it comes to burgers, we're delighted to now offer ready-to-cook turkey burger patties from family-run local favorite DiPaola Turkey Farm, available Fridays through Tuesdays at all five of our store locations. These turkey burgers are unbelievably fresh and juicy—plus they're easy to throw on the grill and they're on special $3.00 off per pound this weekend!
Or pick up a few of our humanely raised, antibiotic-free steaks to throw on the grill. Choose from cuts like Porterhouse, ribeye, or NY strip steaks. Also on our holiday grilling menu are easy marinated skewers, our housemade sweet and hot Italian sausages, and pork butt or shoulder for succulent pulled pork.
Thinking about seafood for the grill? We have plenty of delicious possibilities, including whole fish (sea bass, red snapper and bronzino), steaks (North Atlantic yellowfin tuna, Atlantic swordfish), fillets (salmon, mahi mahi, monkfish) and shellfish (soft shell crabs, sea scallops, and Gulf shrimp). We've also got everything you need to host a traditional clambake, from little neck clams and PEI mussels to Andouille sausage from D'Artagnan.
Our butchers and fishmongers love to offer suggestions and answer your questions, so if you're not sure what's on your Memorial Day menu yet, just ask us for help!
And if you're looking for plant-based options for the grill, you can't go wrong with grilled vegetables, flavorful veggie-based Beyond Meat burgers, or vegan Smart Dogs.
Explore the store to round out the menu and fill your picnic basket—and don't forget about drinks and dessert while you're at it! Discover your favorite sides and fixings among our seasonal prepared food items, domestic and imported cheeses, lovely spring produce and a wide selection of tasty sauces, mayos and other toppings. Experiment with Brooklyn's own Mike's Hot Honey on ribs, Bushwick Kitchen's spicy honey on ribs and chicken, and Elvio's chimichurri sauce on steaks, and pick up one (or two!) of our fresh-baked pies from Blue Duck Bakery or Steve's Authentic Key Lime Pie.
If you need even more ideas on what to stock up on for your Memorial Day celebrations, we recommend checking out our current specials to see what's on sale.
And in celebration of our new store at Grand Army Plaza, we're running additional specials through May 30th at that location, as well as at our flagship store on Union Street in Park Slope, so check out our Grand Opening Specials there. You'll find deals on all kinds of essentials, from rotisserie chickens and NY strip steak to avocados and fresh mozzarella.
Have a safe, happy, and delicious holiday weekend!