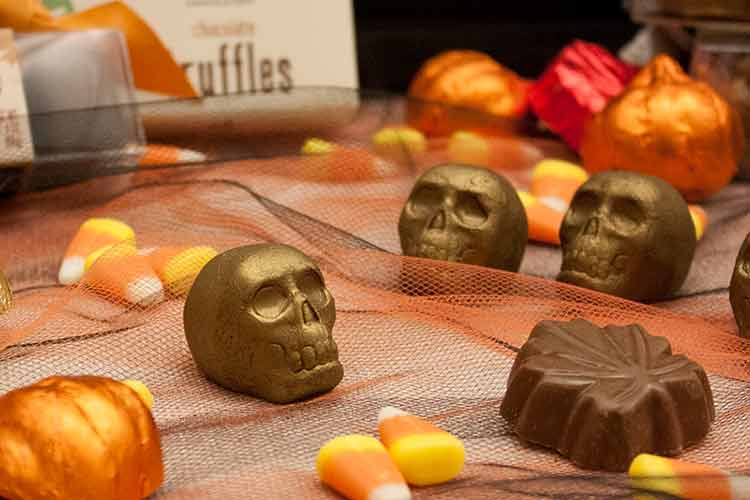 It's almost Halloween, and it's scary how good our delicious candies, chocolates, and sweet treats are. Don't wait till the last minute: stock up now on scrumptious chocolate skulls, tasty truffles, and other candies and confections.
We have all the traditional sweets that you love for Halloween, from jelly beans to Swedish fish, to candy corn, as well as some specialty products that we've tracked down just for you, including Halloween-themed petits fours, 100% natural Glee Gum Pops in three delicious flavors, mini packs of fruity treats from Surf Sweets, and of course, a variety of delicious local chocolates in seasonal shapes and flavors from Lake Champlain Chocolates in Vermont.
Looking for the perfect edible accent to add to your ghoulish Halloween décor? Try a couple of Swedish chocolatier FIKA's beautiful handcrafted chocolate skulls, made right here in New York in their Tribeca chocolate factory. Each skull is coated in edible gold dust and filled with a decadent mixture of macadamias, almonds, and hazelnuts.
And add a little flare to your Halloween decorations with a couple of our ornamental gourds and pumpkins. We have small ones that are the perfect size for painting and large ones just right for carving.
And don't forget: it may be the end of the month, but it's still October! Pick up a six-pack of Sierra Nevada or Shiner Oktoberfest. Or grab a couple of our pumpkin ales—no reason for the trick-or-treaters to have all the fun!